Adrenalin adventure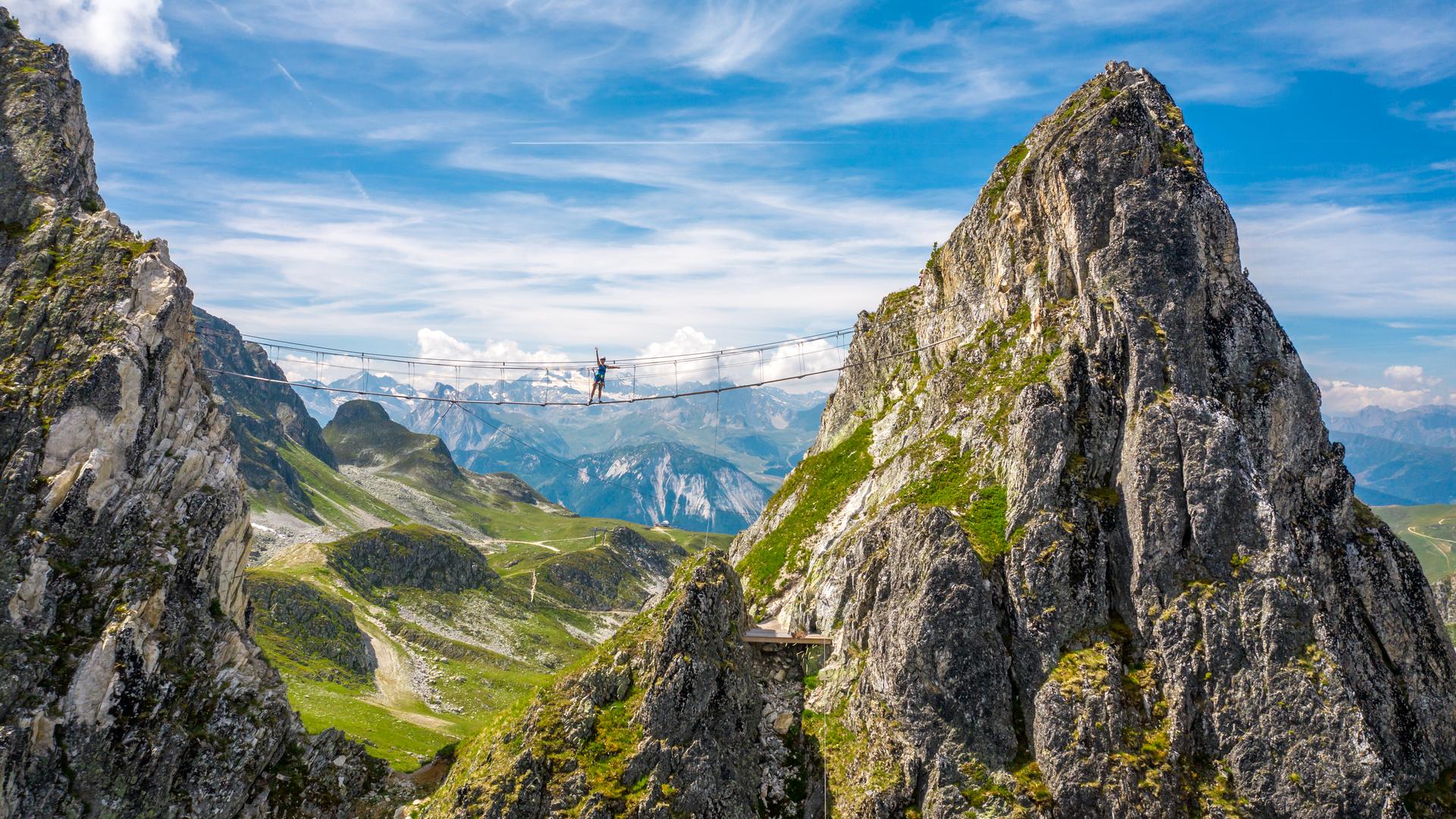 Feel a rush of adrenalin run down your spine as you approach a via ferrata, hear your children's cries of joy from up in the trees, observe the spectacle of the mountain from the air. La Plagne offers you moments of intense emotion to experience on your own or share with your family and friends. Emotions that can also take hold of you by participating in a well-thought-out escape game!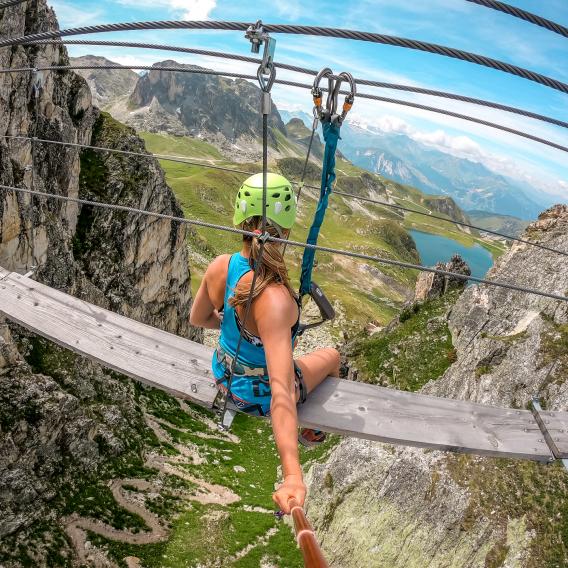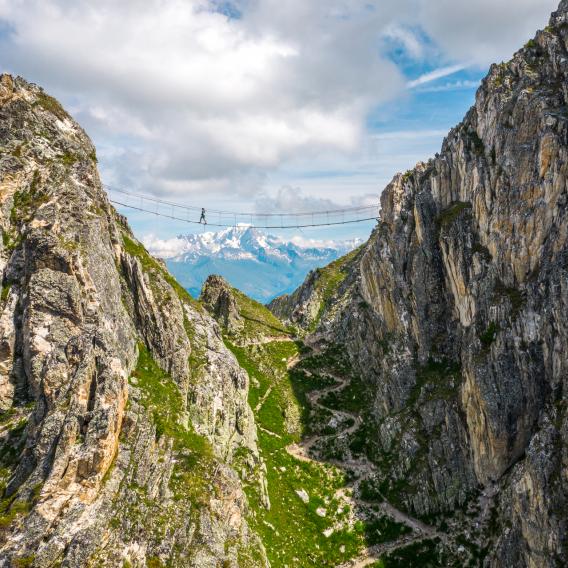 Via ferrata
Via-ferrata is an activity that originated in Italy and consists of a trail along a rock face. It combines hiking and climbing, so you tend to move upwards, using ramps, ladders, bridges, beams, etc. You've probably understood that this is a vertical activity! Don't worry, though, you are attached with a lifeline, so this is a safe adventure. The aim is simple: to get to some unusual viewpoints. How does it work? La Plagne's three via-ferratas are freely accessible. First, you need to get a harness and a helmet and beginners will need a guide! Les Bourtes via ferrata has two zipwires along the way, so don't forget to take a carabiner.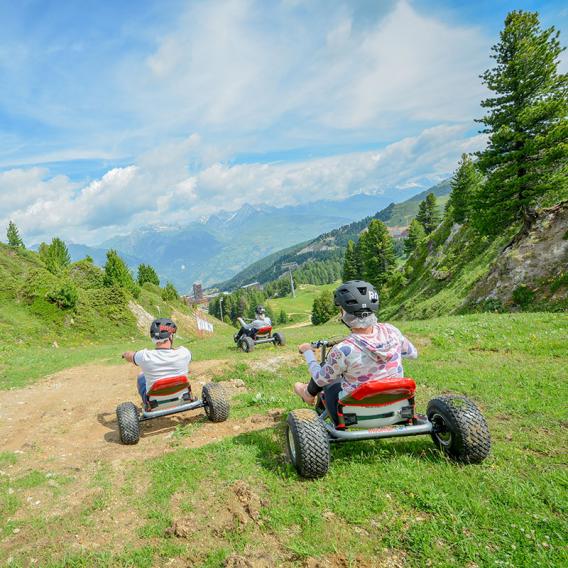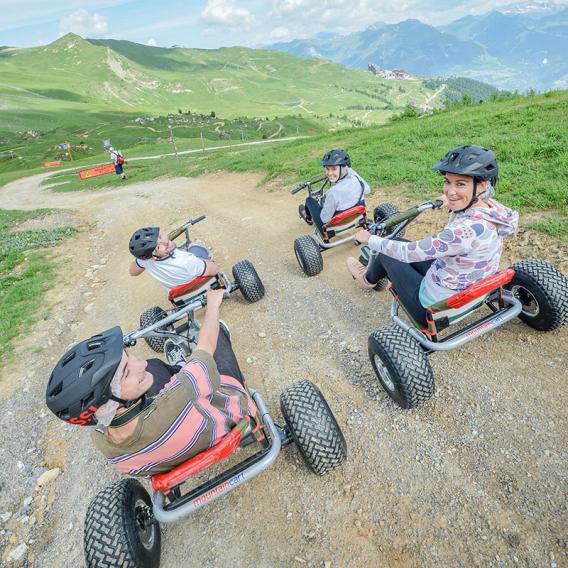 Moutain Cart
A choice of 2 runs for everyone to enjoy. Which will you choose: the easier descent or the more adventurous one?
With your family or friends, hurtle down the run on your mountain cart from the top of Colorado chairlift in Plagne centre.
Min. age 10 yrs.
Children aged 10 to 12 must be accompanied by an adult.
Minimum height 1m30
Equipment supplied: meet at the chalet at the bottom of Colorado chairlift.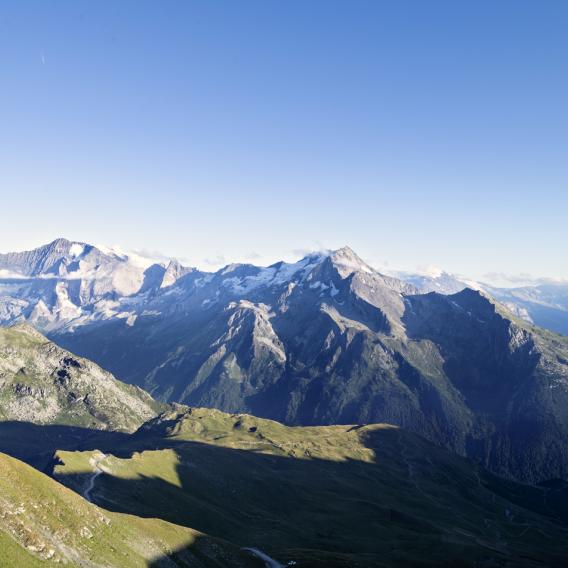 Climbing
This is a discipline that is more and more popular. While it is an indoor activity in urban locations, the mountain allows you to try the "great outdoors" version, where you climb to the peak from an exceptional starting point. With a guide, at the head of the line or with your teammate, try climbing a route where concentration and endurance are the qualities you will need to cultivate. Work on your balance, flexibility and strength and be as one with the rockface and the environment.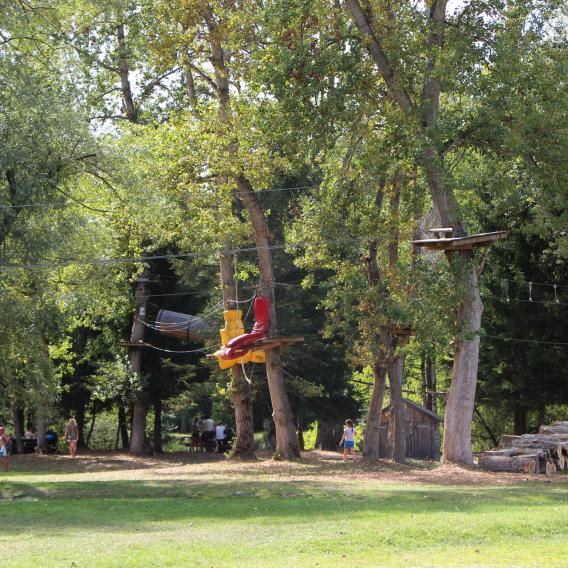 Canopy trails
Play at being Tarzan! Explore the Alpine trees on La Plagne's canopy trails where you can climb a bit higher and have fun in an ecosystem that is otherwise quite inaccessible. Above the Isère river or the Vallon de l'Ours, overlooking the Vanoise glaciers or in the Tarentaise valley, the trails are adapted to different levels and are all great fun. There are even trails for children aged 8 and up so that no-one's left out.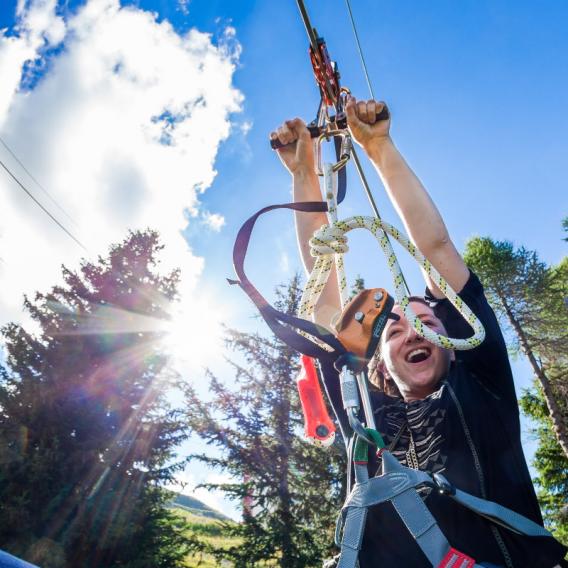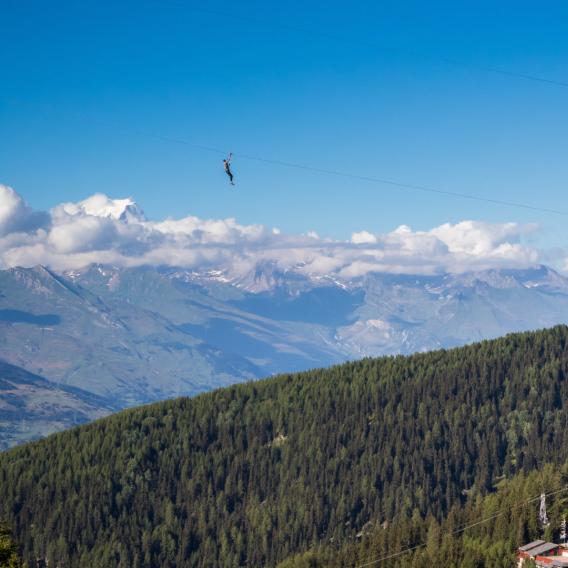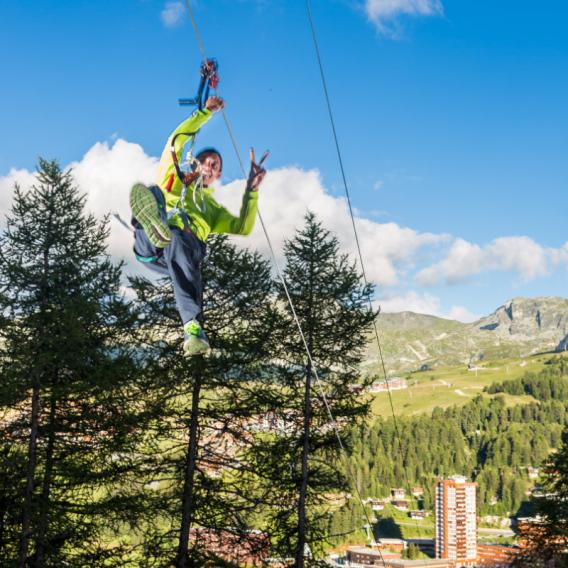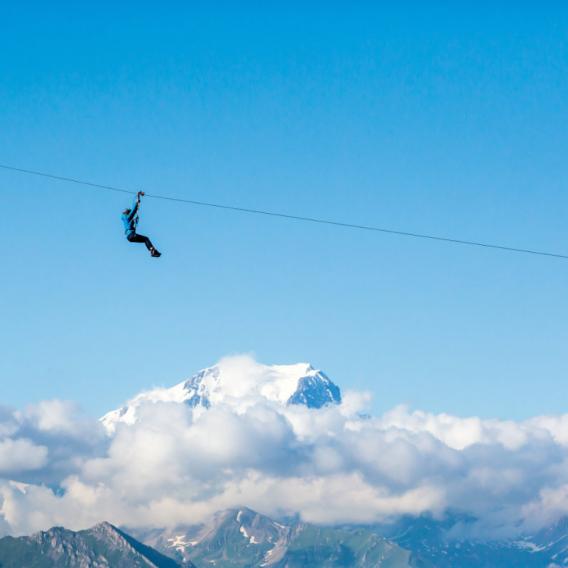 Tyroliennes
Une descente en tyrolienne au cœur de nos montagne, ça vous tente ?
Plusieurs choix s'offrent à vous. Côté Belle Plagne, zigzaguez entre les arbres en famille ou entre amis ! Côté Plagne Centre vous optez pour la vue sur le Mont Blanc.
Alors, que choisissez-vous ?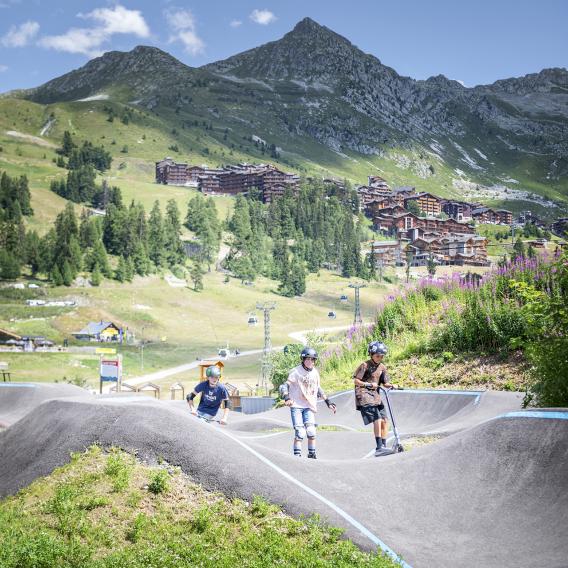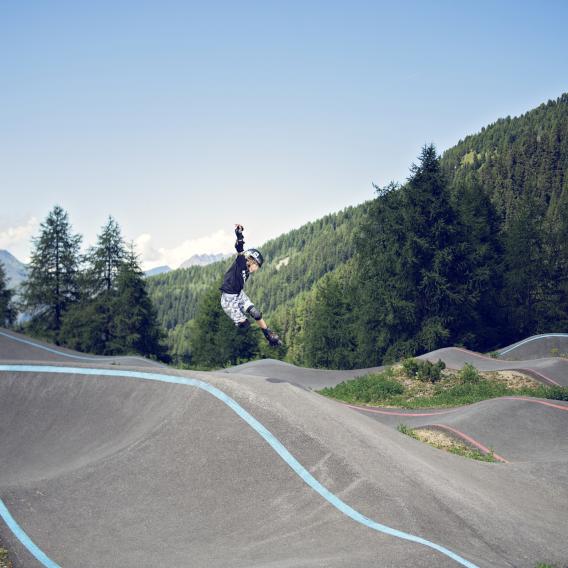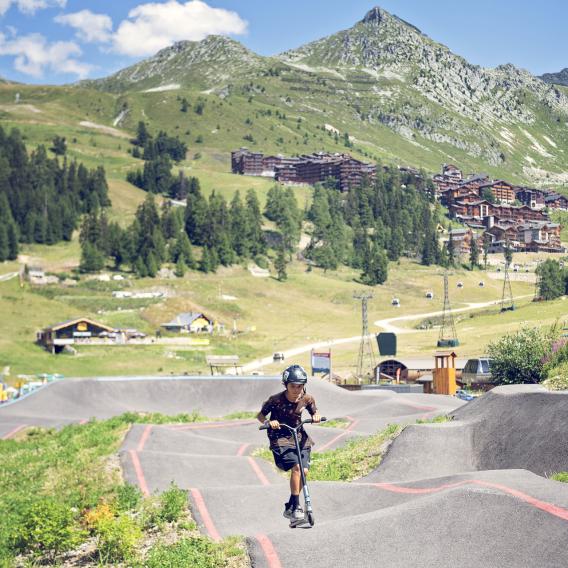 Pump track
Three, two, one, get pumping! La Plagne has two coated pump tracks, one in Plagne Bellecôte, the other in the valley in Aime. What's a pump track? A continuous circuit that you can keep riding round without pedalling; How does that work? By pumping, of course! Use your arms and legs to keep your speed up without pedalling and use the bumps, dips and bends to accelerate. What can be used on it? Anything that rolls: a mountain bike, BMX, scooter, skateboard, roller skates, pedal-free bike, etc… Our advice : Choose the course adapted to your level. On each of the pump tracks, you can choose between an easy circuit or a more technical one. Before you start, do a few exercises to warm up: try to stand up on your bike to test your balance and practise braking and slaloming to get used to your mount. Once you are on the track, respect the riding direction and make sure you are wearing a helmet and gloves. It goes without saying that this is not an activity for motor vehicles!
Nos conseils : choisissez le parcours selon votre niveau. Sur chacune des pump tracks, vous pourrez opter pour une boucle facile et une autre plus technique. Avant de partir, faîtes quelques exercices, histoire de vous échauffer : essayez de tenir debout sur le vélo pour travailler votre équilibre, entraînez-vous à freiner et à slalomer pour vous habituer à votre monture. Une fois sur la piste, respectez le sens de circulation et équipez-vous d'un casque et de gants. Et il va sans dire que tous les engins à moteur restent hors champ !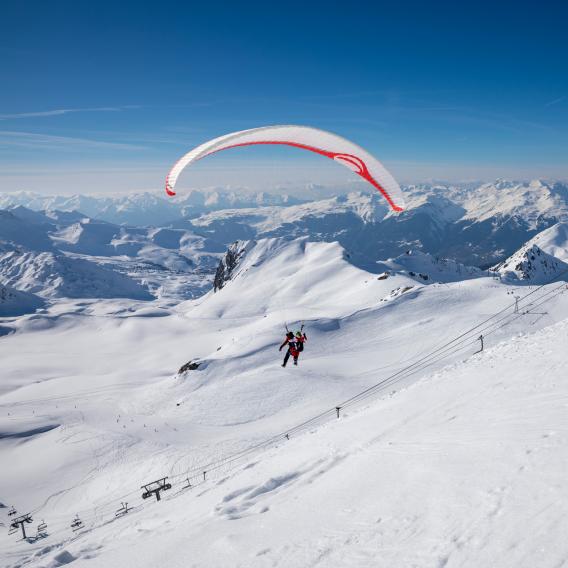 Paragliding and hang gliding
Give me air! Calm and pleasure are the key words in this activity. Paragliding or hang gliding over the Alps is quite magical. Cut through the air, get closer to the sun, though not too close (don't forget Icarus who lost his wings). Flying over the Tarentaise or Vanoise valleys, the mountain peaks approach and recede with the air currents. This delightfully smooth sensation can take a more thrilling turn if you add some acrobatics!