Every extraordinary destination requires a memorable night. La Plagne and its snow-capped mountains are home to some quite original places to stay. We invite you to discover our more unusual addresses, including one that is quite unique! You will find it on the slopes when night falls... When a snow groomer is made to look like a candy box, the result is Over the Moon! It's perfect for bashful lovers, taking up its quarters at the top of the ski area, overlooking Mont Blanc. Another unusual address is the Igloo Village. A snow labyrinth leads to rooms that could be in the Far North. After a fondue and a Génépi, the atmosphere warms up and laughter echoes through the dining room with its ice sculptures. Whether you want to live an unforgettable experience or offer an amazing gift to a loved one, La Plagne will put stars in your eyes.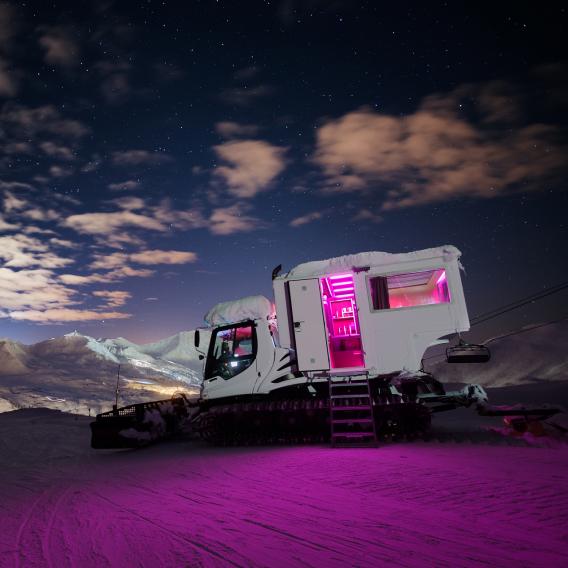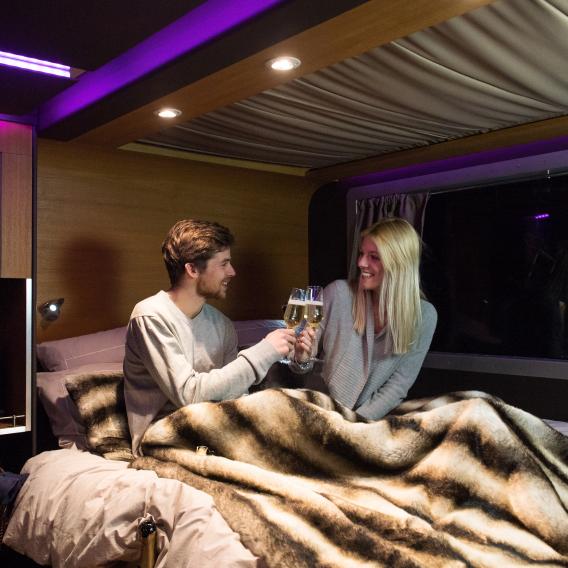 Over the Moon
This is the tale of a snow groomer that could no longer be used for grooming. However, La Plagne decided to give it a second breath of life. A facelift later, it looked more like a candy box… with a queen size bed, glass roof and dimmed pink lighting, it climbs the slopes with its loving couples on board. Its destination is the top of the Arpette, at some 2385 m altitude, overlooking Mont Blanc. Don't try and find this anywhere else, it simply doesn't exist!
A castle in Spain? Even better
A furnished snow groomer that is unique the world over, for you alone. Could it be that true luxury is a moment suspended in time with your loved one? Right in the heart of the ski area, under a starry sky that would make even Van Gogh pale in comparison, overlooking Mont Blanc, you will enjoy the luxury of being quite alone to enjoy this grandiose spectacle. And since we don't do anything by halves in La Plagne, Over the Moon stops just next to a (covered) jacuzzi. Champagne and macaroons are included as well as a love box… There's no need to spell it out for you: this will be your most romantic night ever!