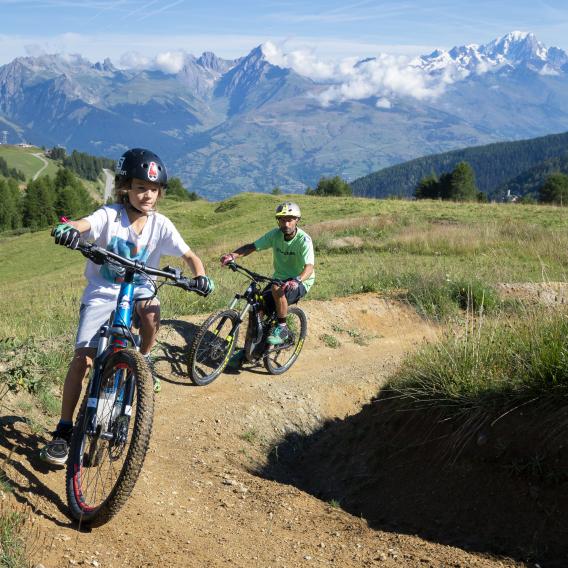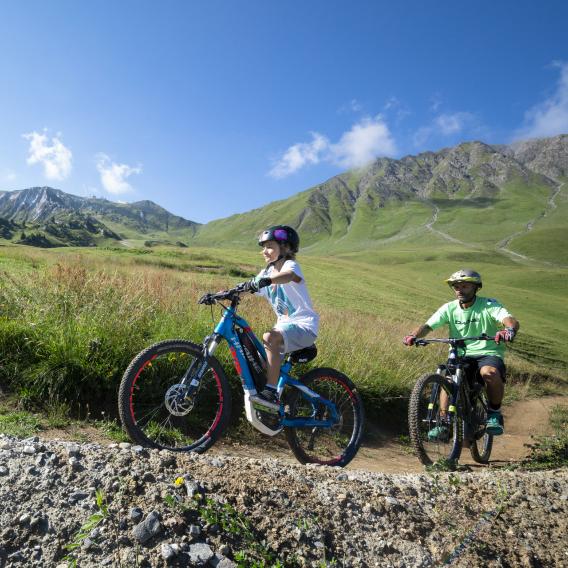 The electric version
E-mountain biking is already very popular so why don't you give it a try? If you're somewhat hesitant about cycling in the mountains, some electric assistance might be just the thing. In a few turns of the wheel, you can reach new horizons, higher up and further on. E-bikes even exist in a 24'' version for children aged about 10.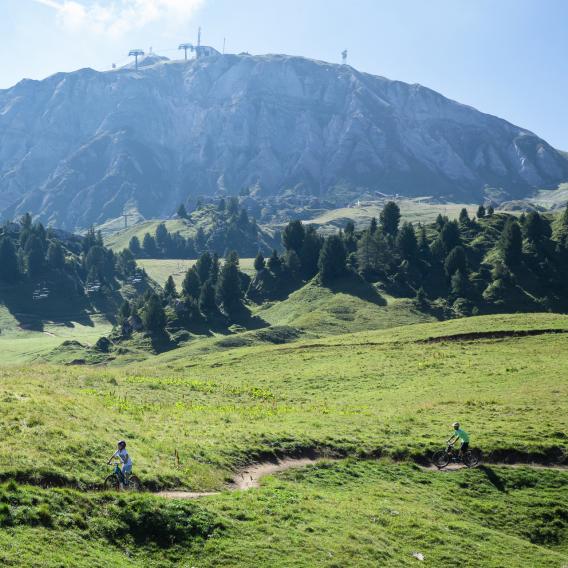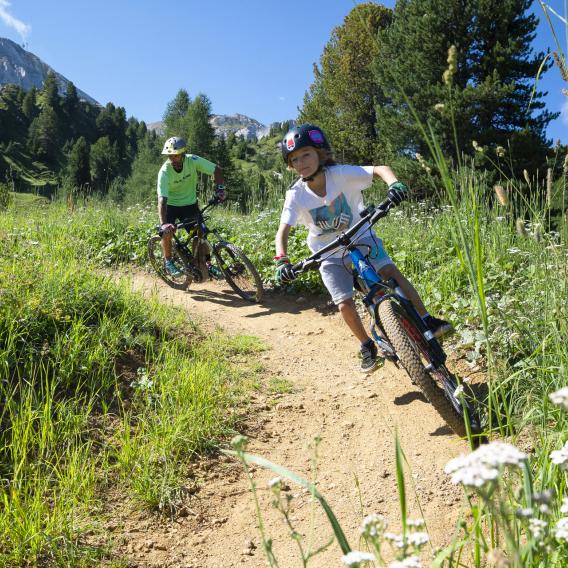 10 specific e-MTB trails
E-mountain biking is a fun and ecological activity that is increasingly popular and offers a solution to the issue of riding uphill! La Plagne has created 10 specific e-MTB trails without any excessively technical sections so that all you need to do is have fun. There are several types of trails on the menu: full day or ½ day with the duration varying according to the total distance and the possible stopping points.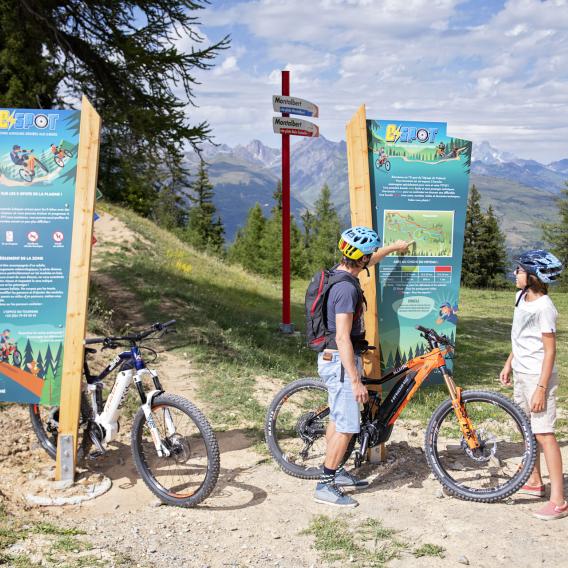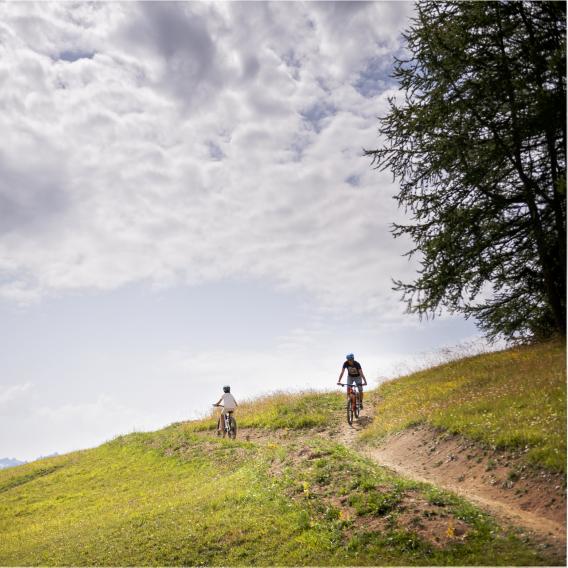 E-spot
Sorry, what…? These are fun zones for e-mountain bikes. Raised bends, modules, jumps and varying gradients make E-spots places where you have fun going up and down. Accessible from the e-MTB trails, you can use them to test your bike's full potential.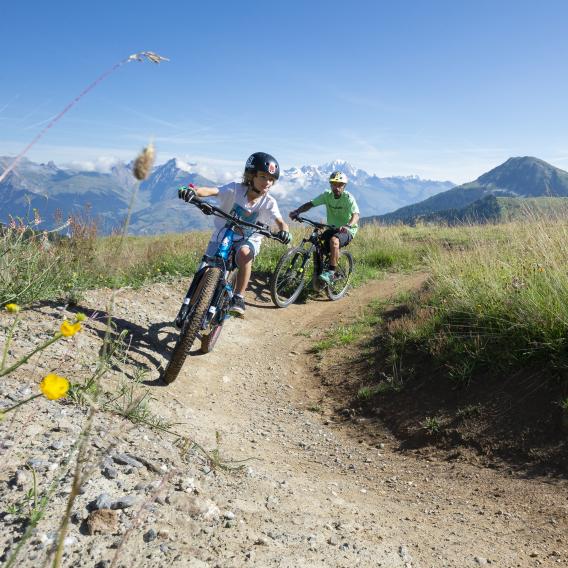 Forfaits VTT
Les E-spots sont accessibles gratuitement. Cependant, si vous souhaitez passer plus facilement d'un E-spot à l'autre, les remontées mécaniques peuvent s'avérer utiles.
| Côté tarifs | Adulte (>12ans) | Enfant (5-12ans) |
| --- | --- | --- |
| 1 jour La Plagne (accès glacier piéton) | 20€ | 16€ |
| 1 jour La Plagne (sans accès glacier) | 15€ | 12€ |
| Semaine la Plagne (accès glacier piéton) 7j consécutifs | 40€ | 32€ |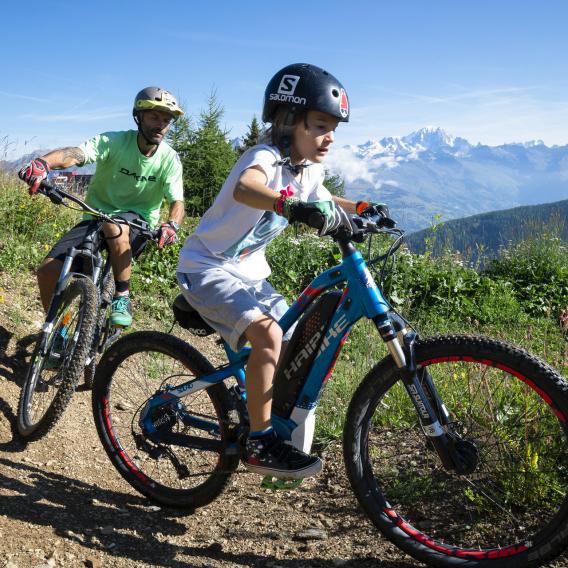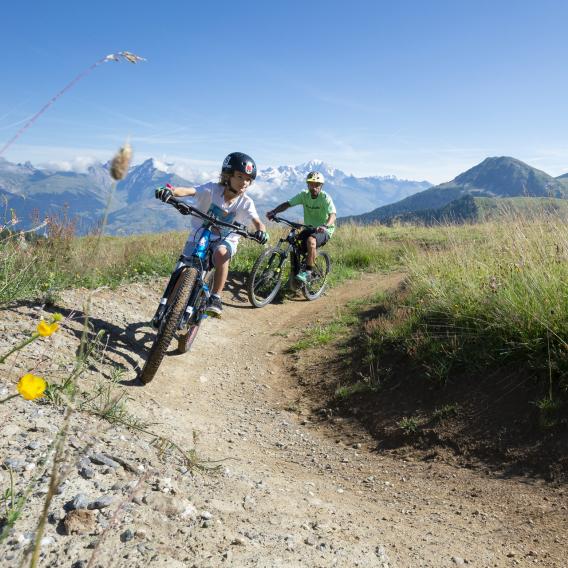 How does it work?
There are electric bike rental locations in all of the La Plagne villages with staff who will explain how the bike works. Get a map to prepare your ride and find out where the recharging points are. Make sure your battery is charged before heading off! Most electric mountain bikes offer 3 levels of power (eco, standard, turbo) that will use more or less battery. We recommend that you manage use according to the time and distance of the trail. The trails have been designed to be ridden mostly in 'standard' mode.
Get the mountain bike plan