La Plagne, c'est avant tout une histoire humaine, avec ses sensibilités. Réunis autour du sport comme emblème du bien-être, la station a trouvé en Odysséa sa sœur de cœur. Afin de soutenir la lutte contre le cancer, la station organise cet hiver encore une course à pieds. Plagnards d'un jour ou de toujours, portez haut le tee-shirt rose !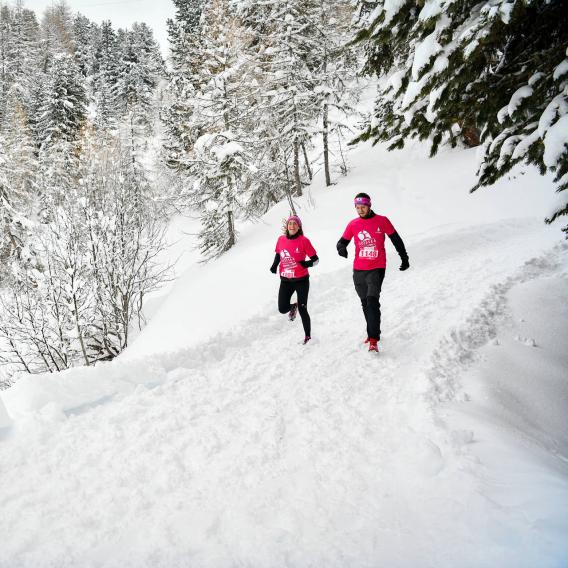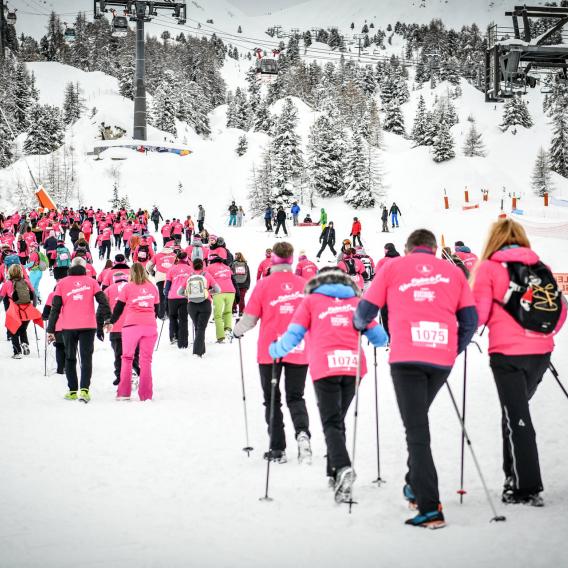 Running for a good cause
On Wednesday March 1st 2023, meet at 3.15 pm in Belle Plagne for a new snow race "Odysséa - La Plagne".
Three options are available to you:
1 km children's race "Je cours pour Maman" - between 5 and 12 years old (start time to be confirmed)
a non-timed 5 km race
a longer, timed race at 9 km. Don't worry, we don't expect you to perform!
It's a friendly and supportive event, which gives you the opportunity to run in short strides in the snow. It's an invigorating experience, so go for it!
Do you want to participate? Online registration is now open.
If you are not available on March 1st, you can support the event:
by buying a pink Odysséa t-shirt
by participating to the connected distance race !
Follow the following steps step by step:
Register to the Odysséa La Plagne connected distance race by choosing a distance (5 km and 10 km connected).
Fill in your medical certificate if needed.
Download the free Odysséa mobile app (on Android or IOS).
Retrieve your access codes from my registration confirmation email (sent by support@odyssea.app) or click on "forgotten password" if you can't find them.
Train as many times as you like and accumulate kilometres for the fight against breast cancer.
Activate your GPS and click on "I'm starting my race" between 27 February 8am and 5 March 6pm.
Share your performance and take a selfie at the end of the race. Congratulations!
Registration Odysséa La Plagne, Belle Plagne
A valid medical certificate, dated less than one year, is mandatory for all registrants to a 10 km race (either for the Esplanade Roland Barthes meeting or for the connected distance races via the Odysséa mobile application).
ATTENTION: triathlon licences (and medical certificates for triathlon) are no longer accepted to participate in a running event.
Underage children must also submit a parental authorization. Without these documents, participants will not be allowed to take part in the event.
Collecting race numbers and T-shirts
To collect your number and T-shirt, please come to one of the following offices with your invitation.
Sunday 26 February: from 10am to 6.30pm - Belle Plagne Sports I - 38 Place des Croets Belle Plagne
Monday 27th and Tuesday 28th February: from 8.30am to 6.30pm - Belle Plagne Sports I - 38 Place des Croets Belle Plagne
Wednesday 1st March: from 10am until 15 minutes before the start - Belle Plagne (on the Odysséa village)
Become a volunteer!
The adventure starts here! Join the forces of this solidarity event by becoming a volunteer. #ensembleonestencorefort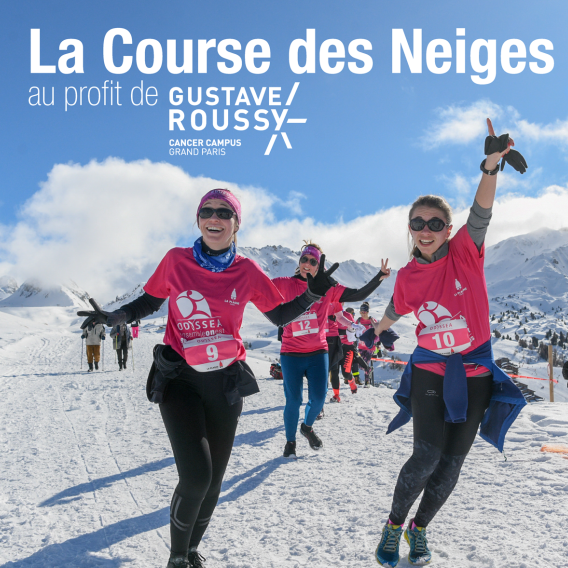 Odysséa La Plagne programme 1st March 2023
| | |
| --- | --- |
| Opening of the village in Belle Plagne | 10 am |
| Group warm-up | 3.15 pm |
| Start 1 km children "I run for Mum". | 3.30 pm |
| Podium  | 3.40 pm |
| Group warm-up | 3.45 pm |
| Start 9 km timed  | 4.15 pm |
| Start 5 km  | 4.30 pm |
| Podium | 5.30 pm |
| Closing of the village | 6.00 pm |
Organised for 18 years and now in 14 cities, the Odyssea runs and walks raise funds to support the fight against breast cancer. Since its creation in 2002, the association has already donated more than 8.5 million euros thanks to the participation of 840,000 participants. Odyssea wishes to inform, raise awareness and involve people by offering them the opportunity to participate in these 1, 5 or 9 km running or walking events. As part of the development of its snow races, it seemed obvious to Odyssea to associate itself with La Plagne, "heart resort" for Gustave Roussy.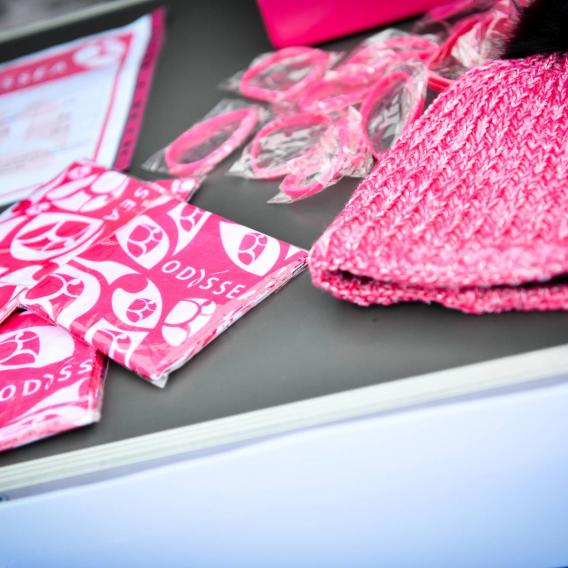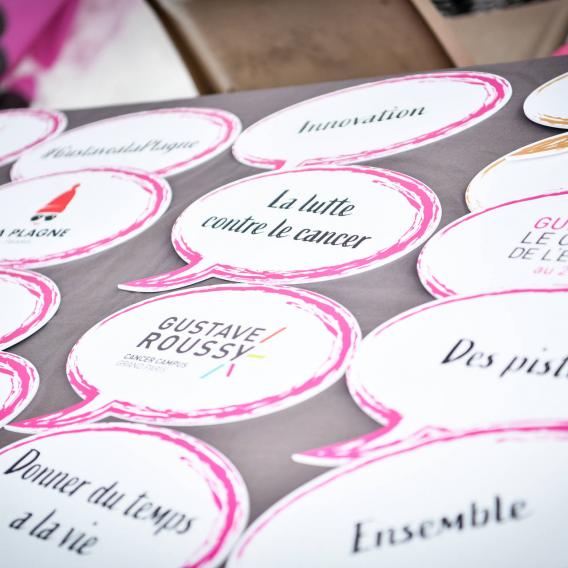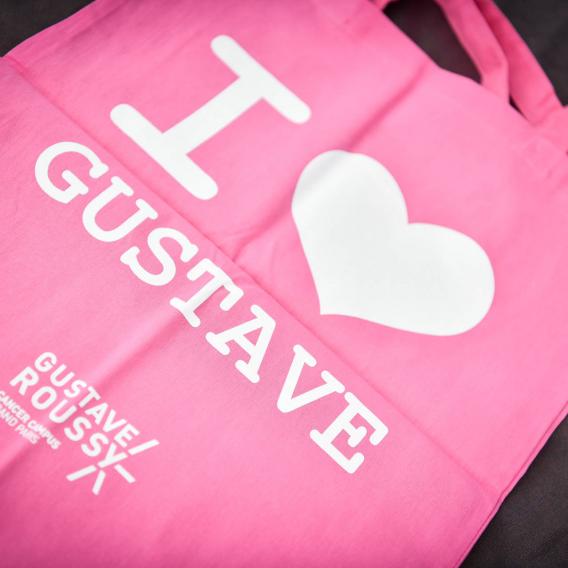 Institut Gustave Roussy
The recipient of the funds raised by events like the Odyssea race and a partner of our resort, the Gustave Roussy Institute, is Europe's leading centre in the fight against cancer.