Odysséa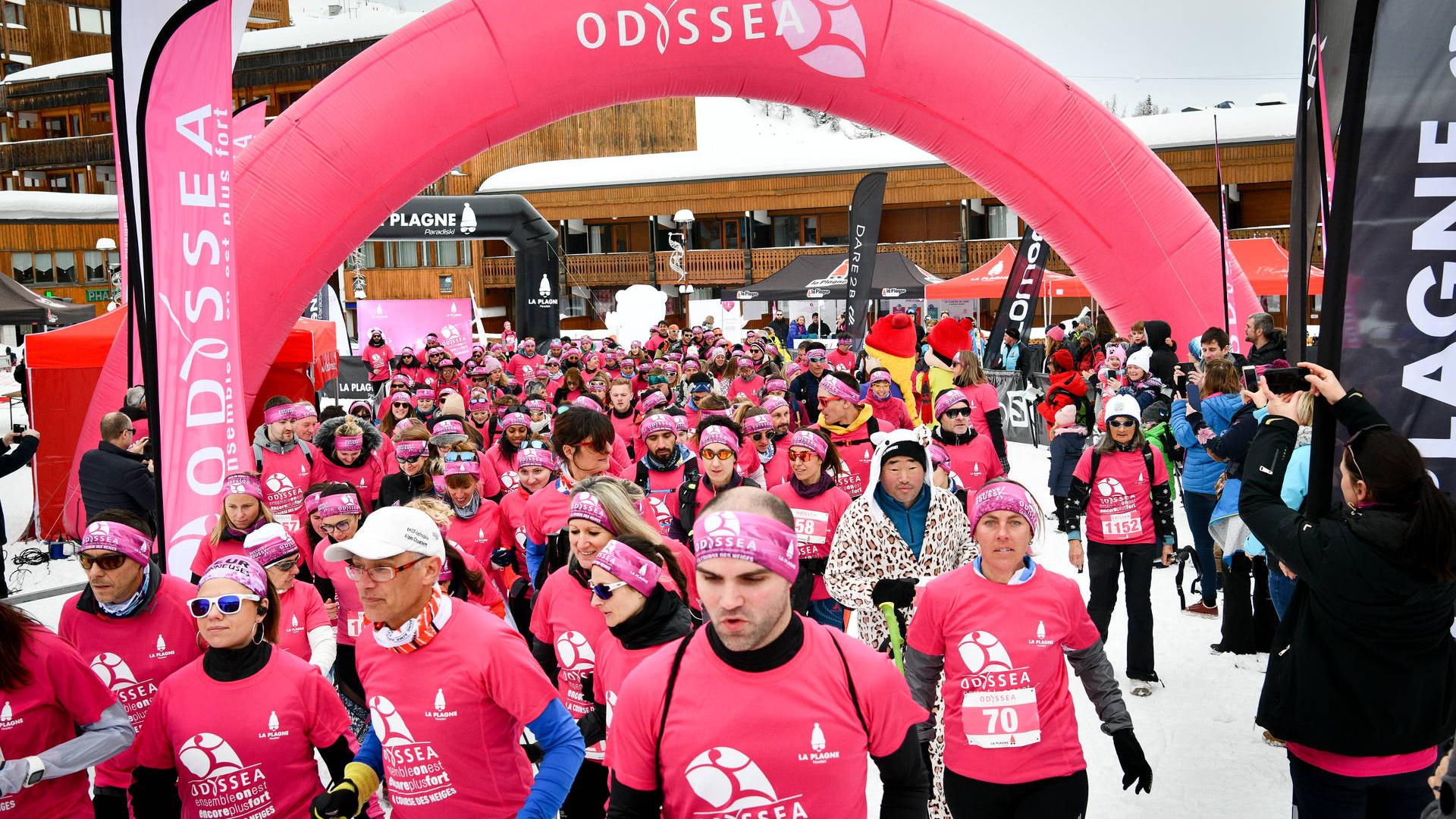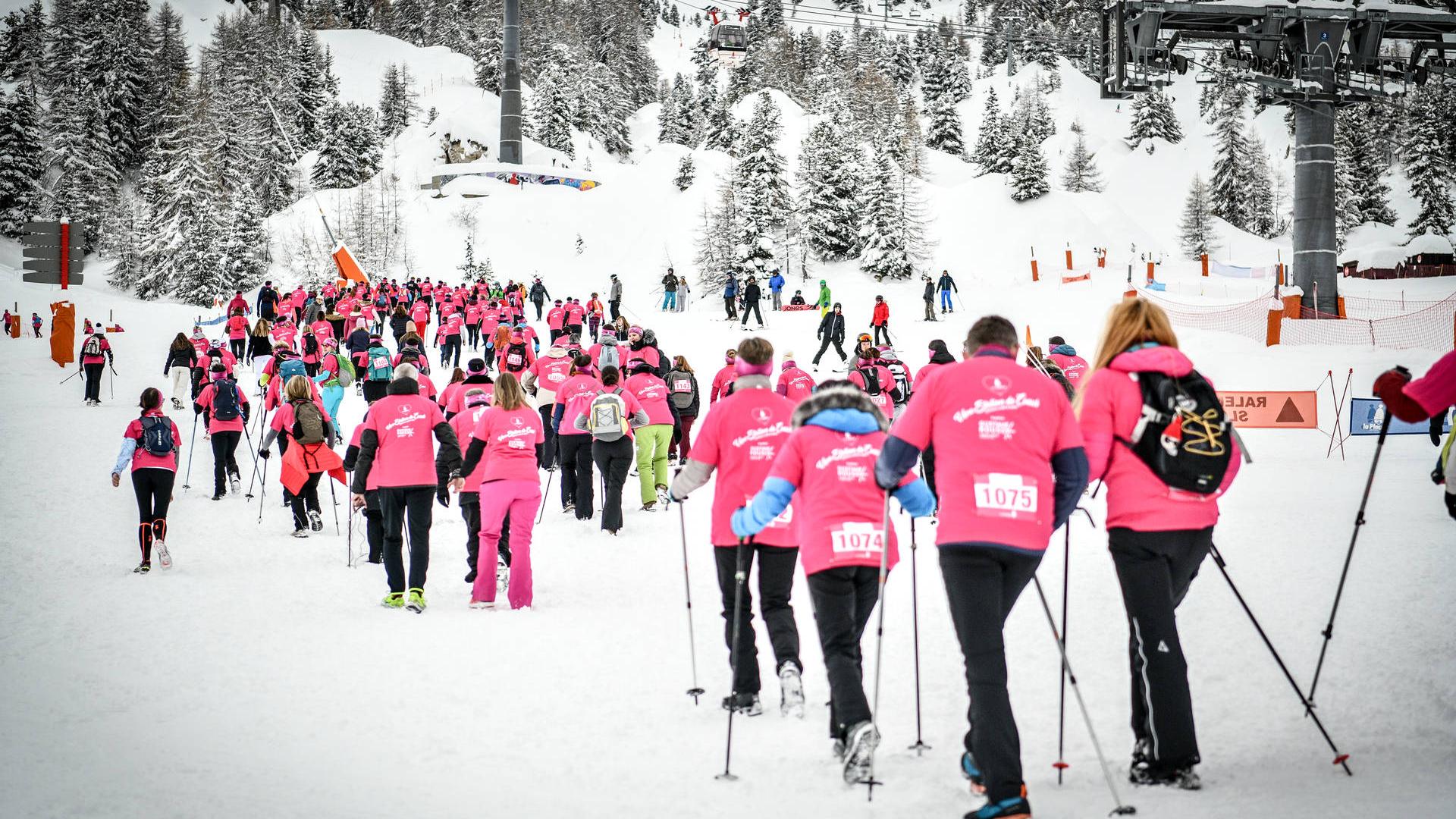 The spirit of solidarity 
La Plagne is first and foremost a resort concerned with human issues. With sport as the emblem of wellbeing, the resort has found something of a soulmate in the Odyssea event. To contribute to the fight against cancer, the resort will be organising a running race this winter. Visitors and locals can be proud to race in the pink t-shirt!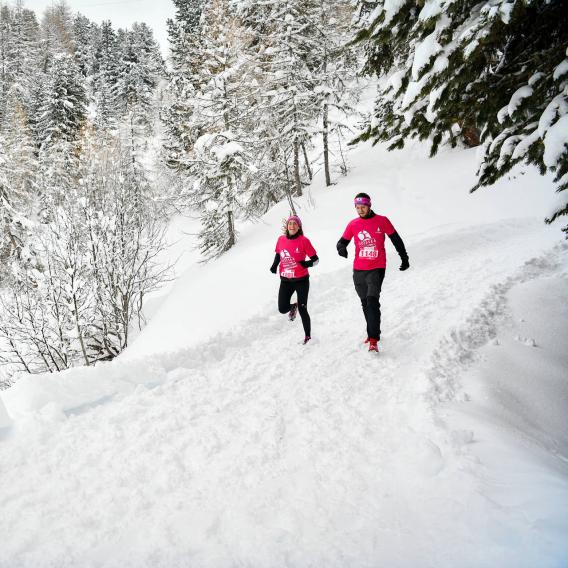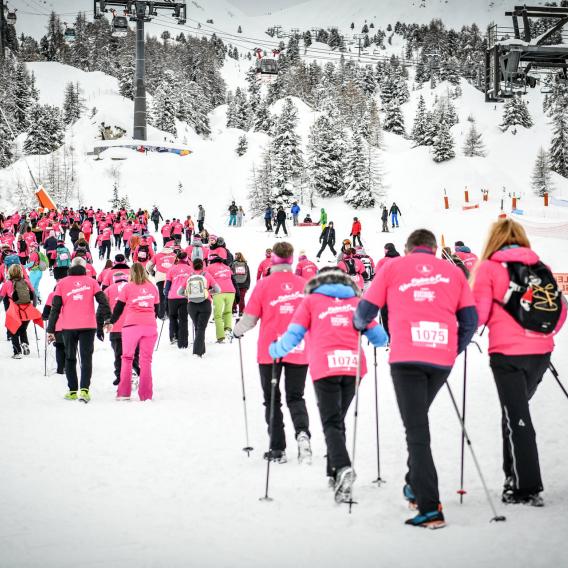 Running for a good cause
Tuesday 18 february 2020, join us in Plagne Centre at 1:30pm, to a new snow race "Odysséa - La Plagne" .
You have two options: an easier 5 km version or a longer, timed course over 8 km. Don't worry though, no-one's expecting a top-level performance! This is a convivial charity event that offers an opportunity to run in small groups in the snow. It's thrilling and highly invigorating, so off you go!
Want to participate? Online registrations are closed but you can still buy your way in on site.
As these hiking races are open to both licence holders and non-licence holders, at the time of registration, it is necessary to submit:
For the 8 km: A medical certificate dated less than one year is required. (Cf: La Plagne 2020 Regulations)
For the 5 km: As the participants are neither timed nor ranked, the medical certificate is not mandatory.
ATTENTION: Triathlon licenses (and medical certificates for triathlon) are no longer accepted to participate in a running event.
Minor children must also provide parental consent. Without the presentation of these documents, participants will not be able to participate in the event.
Individual registrations are made according to the following conditions:
Online registration is done:
for individuals until Friday, February 14 at 8pm.
for groups until Tuesday, February 11 at 8pm.

Translated with www.DeepL.com/Translator (free version)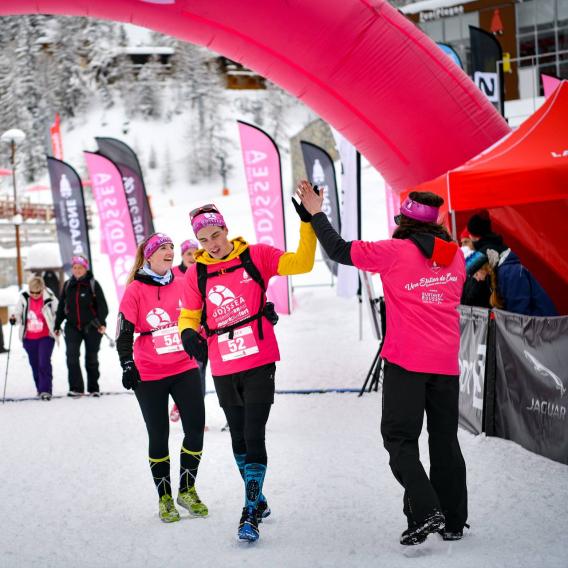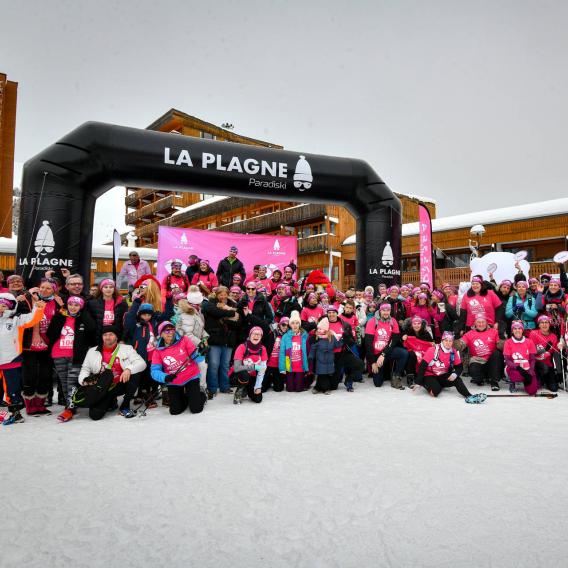 Tarif des inscriptions
Registration on the Internet [closed] and hotlines
| | | |
| --- | --- | --- |
| 5 Km | From 8 yo | 10€ |
| 8 Km | From 16 yo | 12€ |
On-site registration on the day of the race
| | | |
| --- | --- | --- |
| 5 Km | From 8 yo | 12€ |
| 8 Km | From 16 yo | 14€ |
No refund will be made.
Course map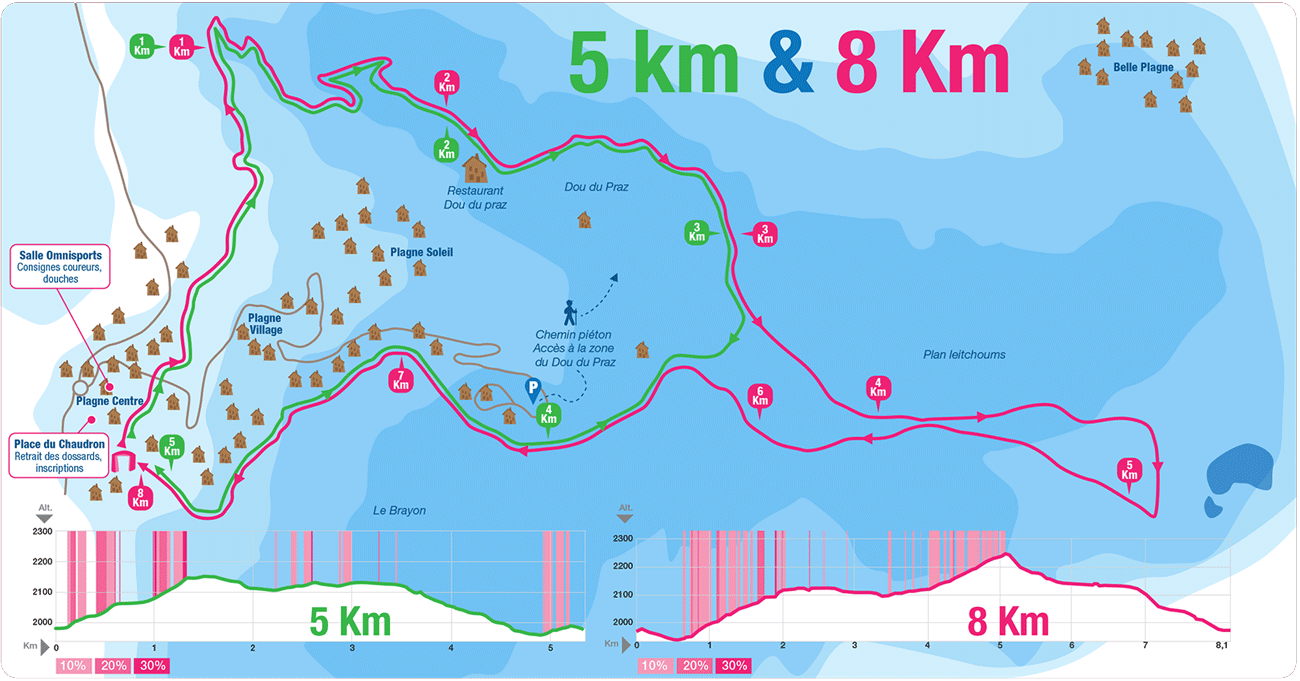 Organised for the past 18 years and in 14 different locations, the Odyssea races and walks aim to collect funds to support the fight against breast cancer. Since it was created in 2002 the association has already contributed over 8.5 million euros thanks to the participation of 840 000 people. Odyssea's goal is to inform people and get them involved by taking part in the 5 or 10 km running or walking races. When it decided to start organising races on snow, a partnership with La Plagne seemed obvious to Odyssea as one of Gustave Roussy's special partners.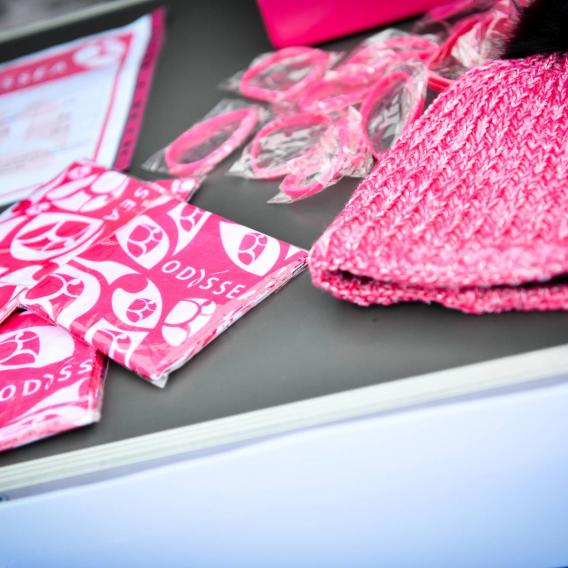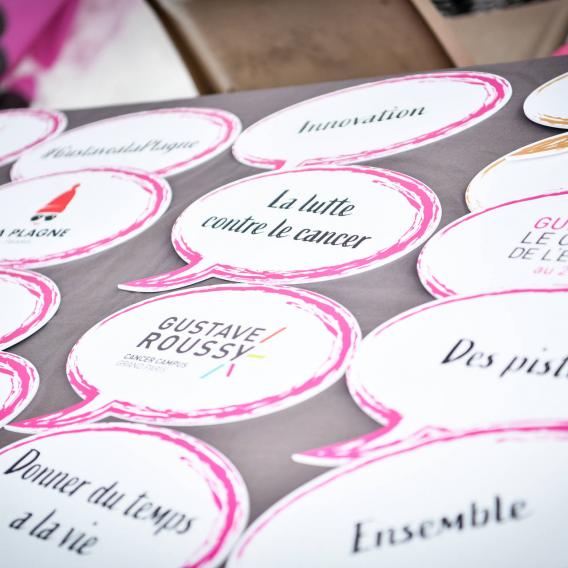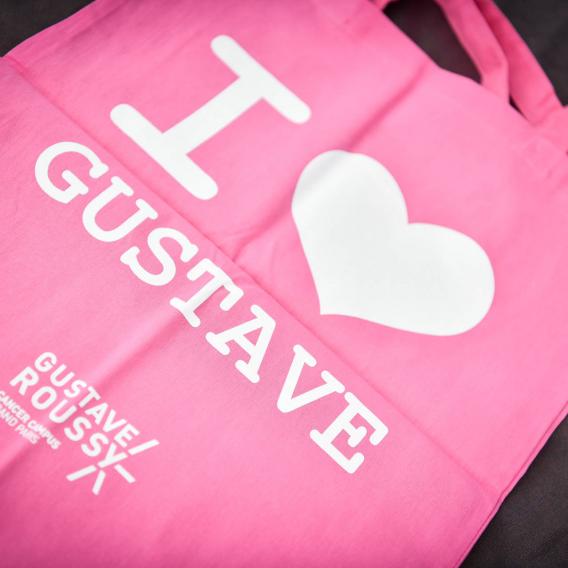 Institut Gustave Roussy
The recipient of the funds raised by events like the Odyssea race and a partner of our resort, the Gustave Roussy Institute, is Europe's leading centre in the fight against cancer.