Valentine's Day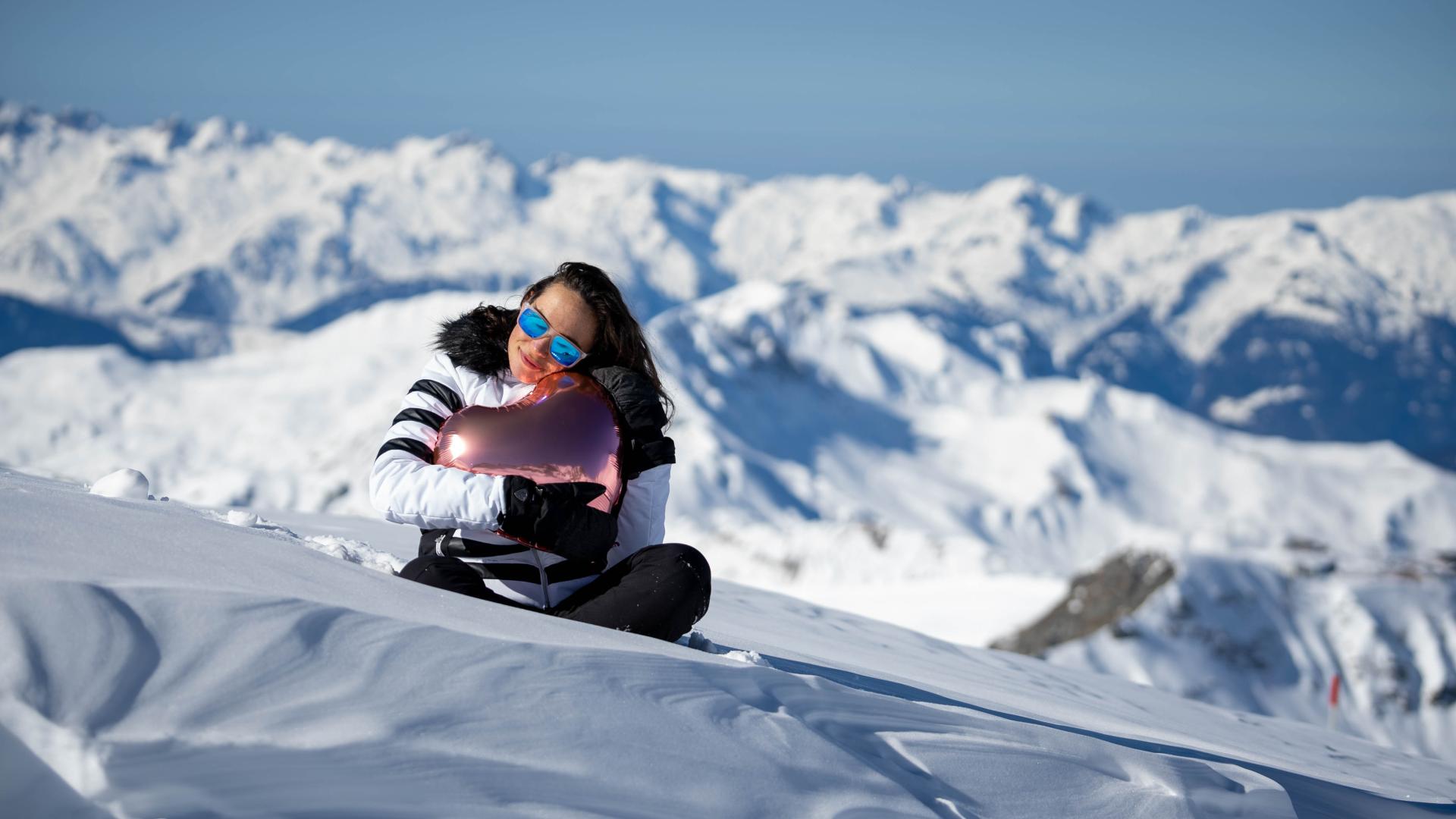 For an unforgettable 14 February, check out the programme for this special day with activities offered in the La Plagne ski area.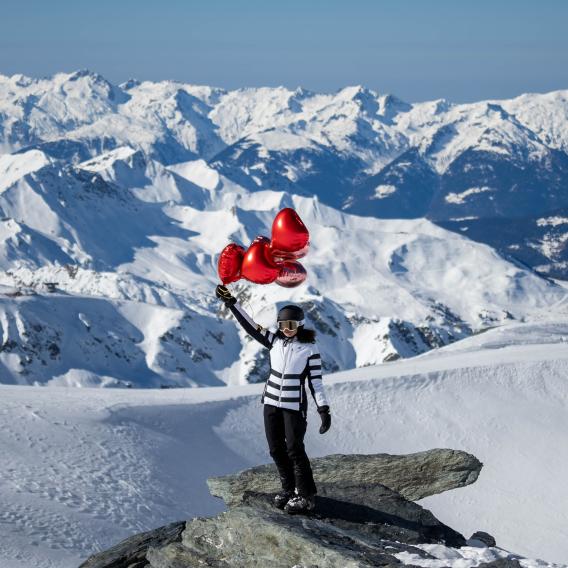 Your programme on the Altitude sites
Booklet of " good plans for a successful Valentine's Day in La Plagne ".
Having the imagination to surprise your loved one for Valentine's Day, and even more so, far from their usual playground, can be a great challenge for some.
La Plagne is happy to offer you your sesame to delight, for sure, your loved one. And for those who are not yet in a relationship, here are a few trump cards to play to win over the one you want! In this booklet you will find offers from our partner resorts, events not to be missed and experiences to be discovered free of charge and on your own. 
This booklet will be at your disposal during the reception on Monday 13th February and in the Tourist Offices from Saturday 11th to Tuesday 14th February in the evening.
Love at the top unusual photo at the top of the Verdon
Do you want to take a totally original Valentine's Day photo? Come and immortalise your love at the summit of Les Verdons where a swing will allow you to enjoy the panorama as lovers and why not, to immortalise this break in your day of skiing! 
📍9h to 17h free access at the top of Verdons next to the arrival of the TS Lovatiere
Kissing Booth
Prenez la pose en amoureux dans le fauteuil rouge passion du « Kissing Booth »
📍10h à 18h en accès libre place perrière à Plagne Centre à côté de la patinoire
Further info
Cupid's stroll
Meet our two mischievous Cupids armed with their magic bows on the Plagne-Centre snow front. Frame your happiness under the protection of the cutest of the gods thanks to an original souvenir photo and leave with a gourmet spirit, after having tasted a love lollipop!
Love at the top Singles special " the Love punchline
Our hosts reveal their best dating punchlines to help you find true love. Face to face, test your opponent's self-control and who knows, maybe you will have seduced him at the end of the game. Public + 14 years old
📍4 to 5 pm at the market place in Belle Plagne
Further info
Love Mountain Challenge
This Tuesday 14 February, let's celebrate "love at the top" on the occasion of Valentine's Day! 
After an unforgettable day of skiing on the slopes of La Plagne, come and relax by participating in the Love Mountain Challenge!
Will your love and your complicity be the strongest to challenge the other couple?
Games of skill and motor skills are on the programme, but above all in a good mood!
📍16h à 17h place centrale à Plagne Soleil
Walk and candlelit Savoyard aperitif
At nightfall, enjoy a short romantic walk along the Dou du Praz footpath (15 min), animated by a love quiz that will guide you to the tasting area.
A Savoyard aperitif with a cheese and charcuterie tasting plate accompanied by a glass of Savoy wine will await you in an atmosphere conducive to the complicity of the shared moment.
📍Plagne Villages - Plateau du Dou du Praz
Meet between 6pm and 6.30pm at the trailhead at the top of Plagne Villages where you will be welcomed. 
End of the activity at 7.30pm.
Compulsory registration in the Tourist Offices before 4.30 pm on February 14th.
Activity limited to 40 couples.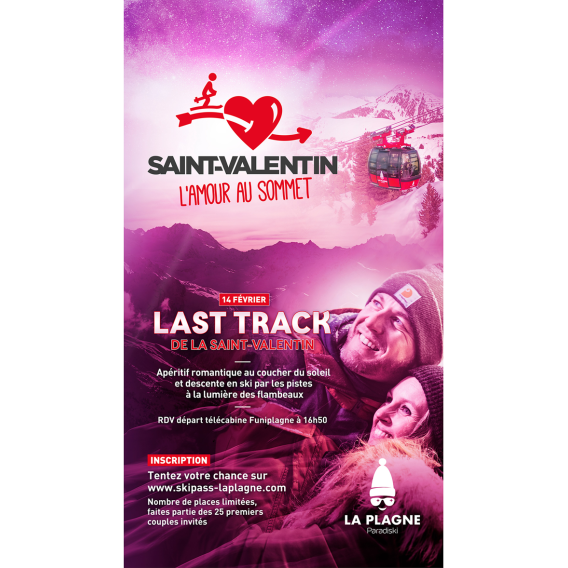 Love at the top "Last track of Valentine's Day
The love festival is back at the summit! For a change from the traditional restaurant, go to the Grande Rochette summit to experience a gourmet and romantic moment in the ski area of La Plagne❤️
The number of places is limited (first 25 couples), so register quickly
Programme of the Valentine's Day Last Track
Departure from the Funiplagne gondola (Plagne Centre) at 4.50 pm to reach the summit of La Grande Rochette
Facing the mountain panorama at sunset, romantic buffet: sweets, fruit juice tasting and waffle bar
Ski down the slopes by torchlight at 6.10 pm or take the gondola for pedestrians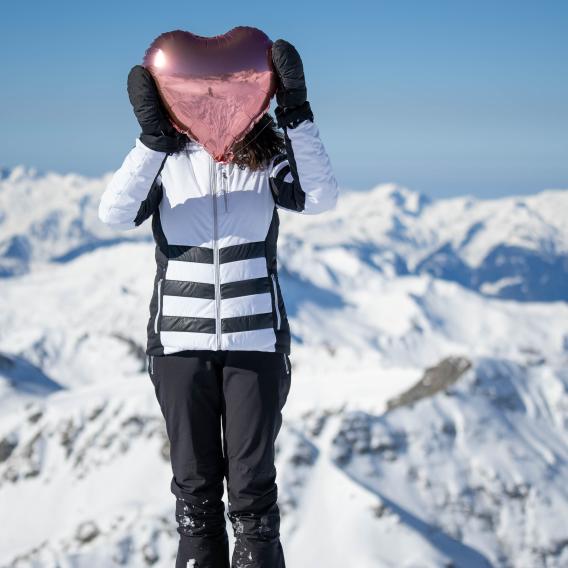 Montchavin-Les Coches program
Rose hunt! in Montchavin-Les Coches
Our animators have hidden little picture roses all over the resort of Montchavin-Les Coches that you can exchange for a real rose to keep or to give to someone you love! (1 rose per person, leave some for the others!)
Creative workshop "the flame of lovers"
📍11.30am to 1pm - Place des commerces Les Coches - Registration at the Tourist Office of Les Coches 2€

The market of Z'amoureux
📍3.pm to 7pm – Main street of Montchavin 
Lovers Blind Test 
📍4.30 pm – Main street of Montchavin

Show « Le Coupe Idéal » (The perfect couple)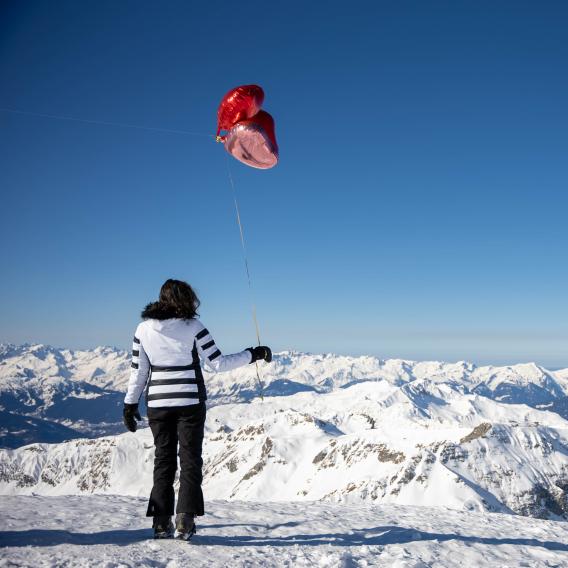 Montalbert program
Love at the top
Enjoy a romantic moment at 2000 m altitude with champagne and petits fours! Immortalise this moment with a souvenir photo. The couple most in love will be offered a dinner worth 60€ in a restaurant in the resort. A red rose and a private cabin to go back down the mountain together.   
Play from Sunday evening to Tuesday lunchtime to win your place.
📍5 to  pm to 6.30 pm. Free of charge. Bring a valid 8 € pedestrian gondola ticket or lift pass. During the animation a cinema session is proposed for children whose parents have won their place.
Valentine's Day Quiz
Win 3 tickets for L'Amour au sommet, roses and goodies!
📍11.15 am, Montalber snow front
Wheel of Love
 Win 4 tickets to love at the top or a rose or a meal worth €60
📍9 am to 10.30 am, at the top of the cable car
Mascot
Find the famous marmot in the streets of Montalbert.
📍12.30pm
Local taste game
📍5.15 pm, pedestrian street
Valentine'day Loto 
Win a meal worth €60
📍8.30 pm, Little Zenith room, organised by the APE