Valentine's Day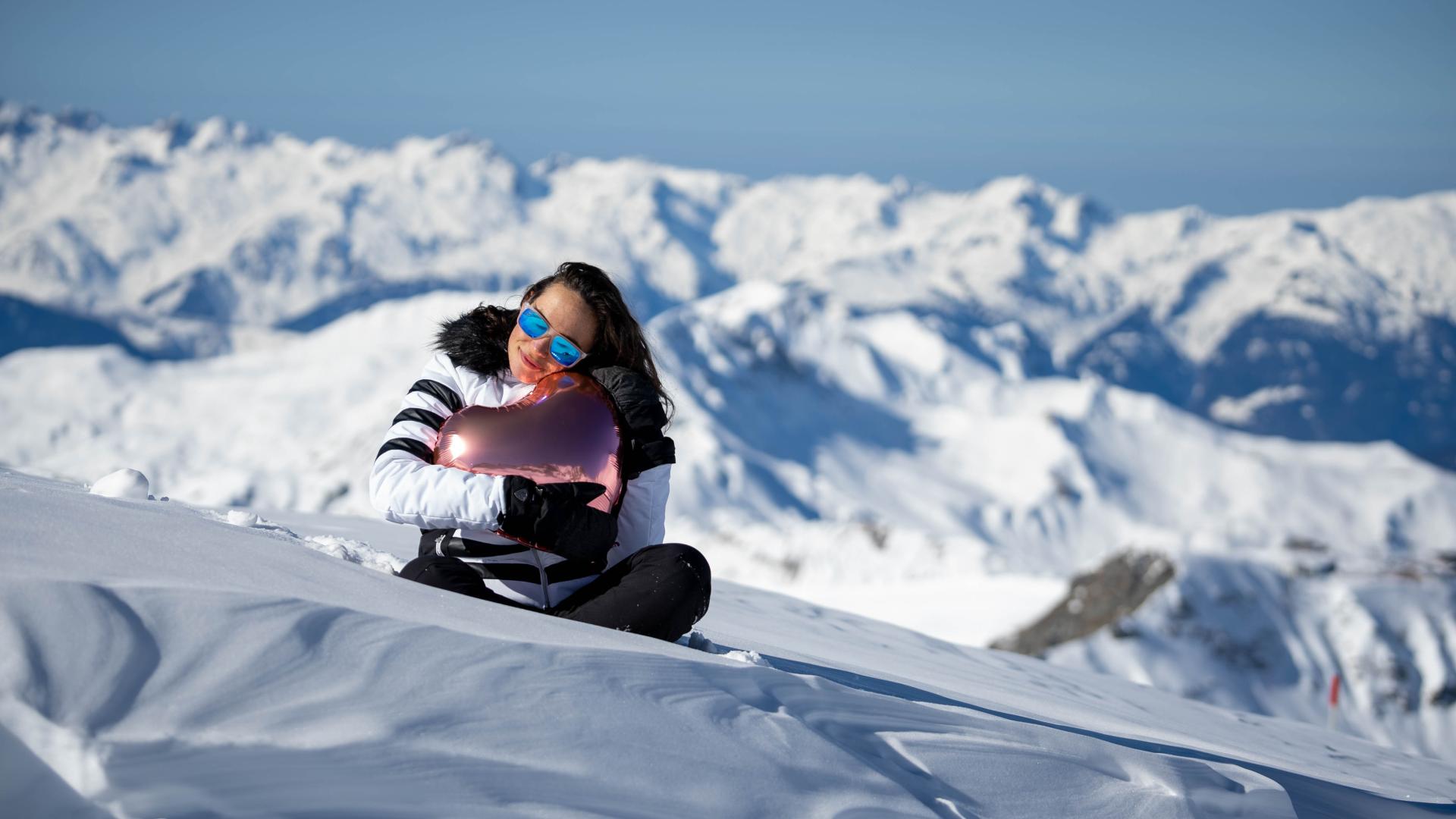 For an unforgettable Valentine's Day, go right to the top! A day with a host of special Valentine's Day activities and a romantic, gourmet moment offered on the La Plagne ski area.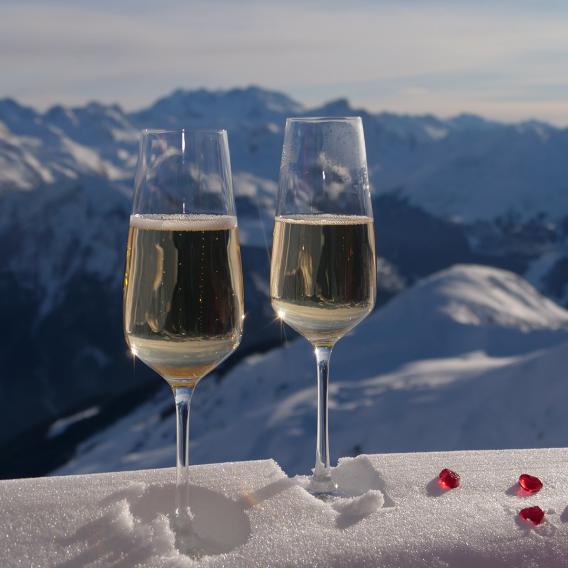 Entertainment throughout the day
For original photos: find the four-poster bed at the top of Les Verdons, our trio of Cupids and Bécoin and Colosses chairlifts decked out in the colours of love!
At the end of the afternoon: test your love on TV show "Les Plagn'Amours", with the set in Bellecôte.
To finish the day: a beautiful lantern release in Plagne Centre.
Detailed programme:
Four-poster bed: for an original photo with Mont Blanc as the backdrop.
Where: Top of Les Verdons – access from the new Lovatière chairlift or Verdons Sud chairlift
When: all day
Further info
 
Decorated chairs on Becoin and Colosses chairlifts: try to get on one of the chairs decked out in Valentine colours!
Where: Place de l'Ours at the bottom of the slopes in Plagne Bellecôte
When: from 5pm
Further info
 
Afternoon activity: TV game "Les Plagn'Amours". Come and test your love, whether you are a player or a simple spectator: this game inspired by famous TV show "Mr & Mrs" is bound to seduce you!
Lieu : Place de l'ours sur le front de neige de Plagne Bellecôte
Quand : rendez-vous à 17h
Further info
 
Après-ski activity: release of heart-shaped lanterns, celebrate your love by sending a message into La Plagne's magnificent starry sky!
Where: Plagne Centre, Place du Chaudron
When: at 6.30pm
Further info
 
Procession of three Cupids armed with their magic arrows: enjoy a heart-shaped chocolate and immortalise your love with their inflatable photo frame!
Where: bottom of the slopes in Plagne-Centre from 10 – 11am Further info
Bottom of the slopes in Bellecôte from 3 – 4pm Further info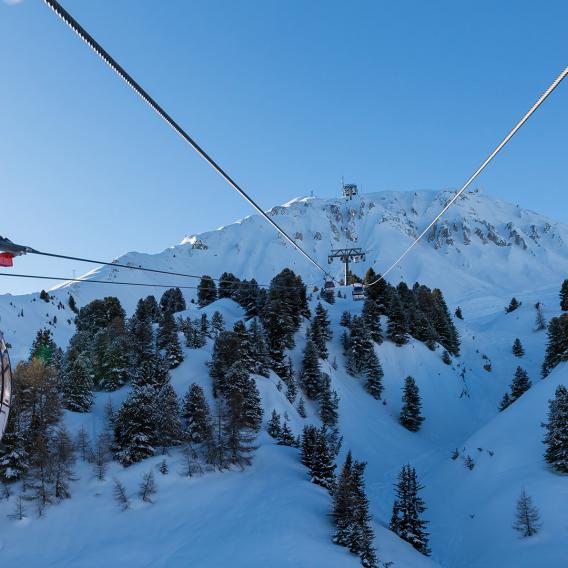 High-altitude love!
For a mountain-high Valentine's Day, go up to the Grande Rochette, the Fornelet or the top of Champagny gondola.
To start or end your day on a romantic note, enjoy a gourmet and tender moment in the La Plagne ski area!
On the programme: special Valentine's Day breakfast or aperitif, gifts and skiing!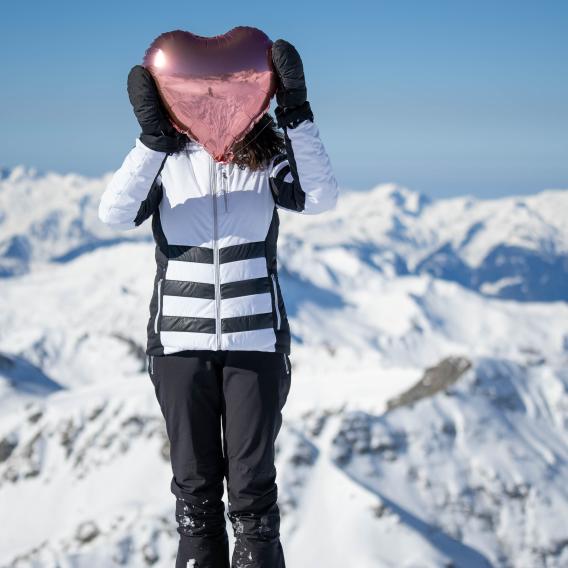 Votre programme à Montchavin-Les Coches
Chasse aux roses ! à Montchavin-Les Coches
Nos animateurs ont cachés partout dans la station de Montchavin-Les Coches des petites roses en image que vous échangerez contre une vraie rose à garder ou à offrir à quelqu'un que vous aimez ! (1 rose par personne, laissez en pour les autres!)
Atelier créatif « la Flamme des amoureux »
📍11h30 à 13h – Place des commerces Les Coches – Inscription à l'Office de Tourisme des Coches 2€

Le marché des Z'amoureux
📍15h à 19h – Rue principale de Montchavin 
Le Blind Test des amoureux
📍16h30 – Rue principale de Montchavin

Spectacle « Le Coupe Idéal »
📍21h en Salle Espace Show – Les Coches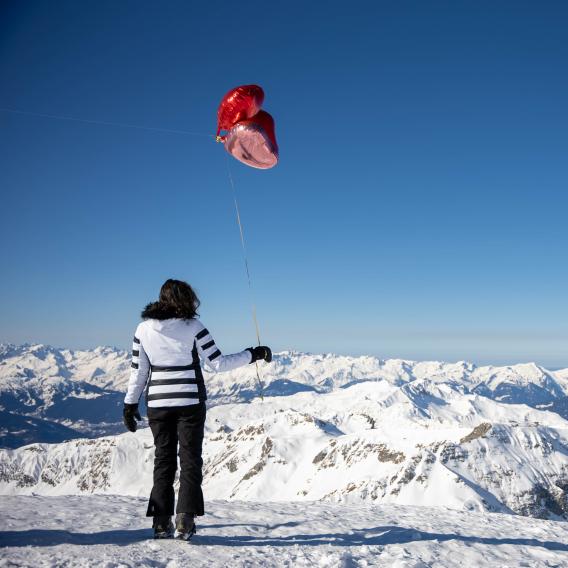 Votre programme à Montalbert
L'Amour au sommet
Au sommet de la télécabine de Montalbert, profitez d'un apéritif romantique au coucher du soleil.
eux de l'amour – quizz et blind test pour remporter un repas d'une valeur de 60 € et autres surprises.
Rejoignez la station en ski à la tombée de la nuit à bord de votre cabine privative.
Nombre de place limité (20 couples), les participants seront tirés au sort lors des animations du dimanche soir et lundi matin.
📍17h à 18h30. Gratuit. Se munir d'un ticket piéton télécabine à 8 € ou forfait remontées mécaniques en cours de validité. Pendant la durée de l'animation une séance de cinéma est proposée pour les enfants dont les parents ont gagné leur place.
Quizz de la saint Valentin
Gagner 3 places pour l'Amour au sommet, des roses et des goodies !
📍11h15, front de neige de Montalbert
La roue de l'amour 
 Gagner 4 places pour l'amour au sommet ou une rose ou un repas d'une valeur de 60€
📍9h à 10h30, au sommet du télécabine
Mascotte
Retrouvez la célèbre marmotte dans les ruelles de Montalbert. 
📍12h30
Jeu Saveur du coin
📍17h15, rue piétonne
Loto de la saint Valentin
Gagner un repas d'une valeur de 60€

📍20h30, salle Little Zénith, organisé par l'APE