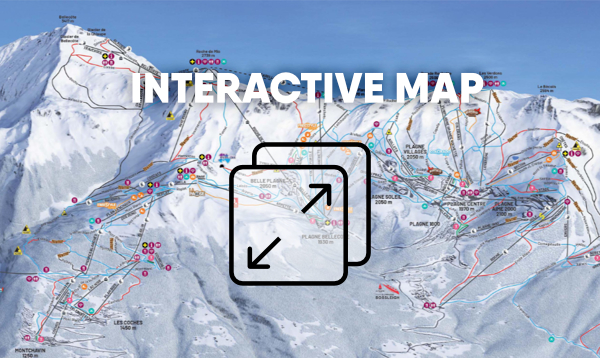 You can start dreaming about your mountain holiday by looking at the piste map. Imagine your itineraries and your stops for crêpes. So…can you see yourself on the slopes already? We can too!
During the winter, the map gives real time opening and closing times for the lifts and runs. A little piece of advice: start by picking out your "base camp" and don't hesitate to use the webcams to get a preview of the conditions.
Opening of the slopes of the Nordic ski area of Champagny en Vanoise
A La Plagne, enfilez vos équipements de ski et expérimentez la glisse sur un espace soigneusement aménagé pour vous offrir des sensations fortes. Les pistes de ski de notre station vous emportent dans une belle aventure au sein d'un cadre naturel charmant. Appropriez-vous des paysages à couper le souffle pendant vos descentes.
Des pistes balisées pour tous les niveaux de skieurs
Rêvez-vous d'un séjour de ski sur des pistes pouvant vous offrir une expérience de descente mémorable ? Les pistes de la station de ski La Plagne sauront parfaitement répondre à vos exigences les plus pointues. Vous accédez à des parcours avec un code couleur spécifique qui définit le niveau de difficulté. Les pistes vertes et bleues sont parfaites pour faire vos premiers pas dans l'univers du ski si vous êtes néophyte. Les vacanciers n'ayant pas pratiqué depuis un long moment pourront reconquérir les bons réflexes sur ces chemins. La diversité des parcours verts et rouge permettra aux parents de dénicher la piste adaptée à une journée de ski en famille. Les skieurs professionnels en quête d'adrénaline pourront s'aventurer sur les pistes rouges et noires.  
Règles de sécurité sur les pistes de ski
Sur les pistes de ski, le skieur amateur ou professionnel devra considérer quelques principes simples à respecter pour pratiquer son activité favorite en toute sécurité. Commencez par respecter le balisage et la signalisation. Si vous skiez seul, considérez les informations fournies sur l'état de la neige, des pistes et des conditions météorologiques. Evitez de vous engager sur une piste fermée.
Les pauses derrière les bosses et les stationnements dans les passages étroits sont interdits. Les stationnements dans les passages sans visibilité sont aussi à éviter. Quant aux dépassements, ils doivent être effectués par l'amont ou par l'aval après un examen minutieux afin de limiter les risques de chocs.