Original nights for an intriguing experience off the beaten track.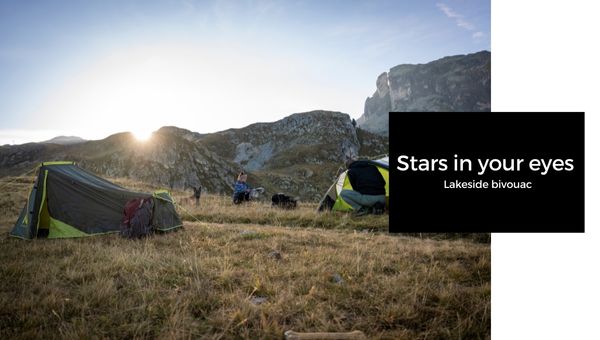 A 2-day hike in the mountains and a night under canvas near an altitude lake. You won't have to worry about snakes in the grass, though, quite the contrary. Surfing (a very apt choice of words!) on the success of his family "survival courses" over the past two years, Guillaume Brun, a mid-altitude mountain guide, is setting up a new idea with his "Lakeside bivouacs". An experience that allows you to learn about the formation of mountain lakes and observe the night sky from a front row seat.
✨2 person tents and meals included, mattresses and sleeping bags not provided. Picnics at lunchtime and hot meal in the evening. Minimum age 8/10 years. 2 people minimum, 8/10 people maximum. Prices to be announced.
✨GB Montagne
Mountain & Nature Activities
Tel. 06 42 08 53 35
FB https://www.facebook.com/gbmontagne
Insta https://www.instagram.com/gbmontagne/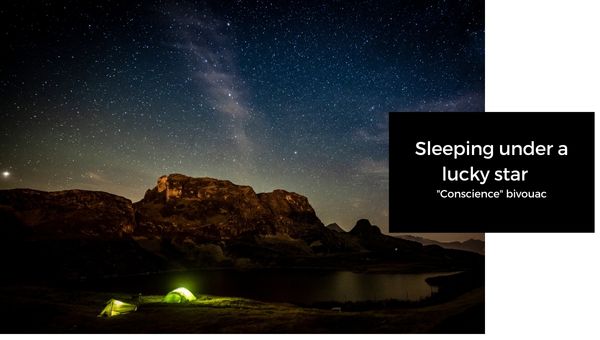 "Conscience" is the name given to this "2-day multi-activity mini expedition" on the banks of the river Isère, with the promise of living at the river's rhythm, trying rafting, yoga and fly fishing. You will discover all the beauty and pleasure associated with this legendary Savoyard river, using the water as a means of transport and a source of nourishment and letting yourself be caught up in the tempo of the Isère, gradually becoming an observer of time passing. Through the yoga sessions organized on the riverbank, you concentrate on the essential and let your deepest desires express themselves to reach a state of concentration and reconnection to yourself. Once the "reset" is done, it is easy to fully appreciate the present moment. As a complement to yoga, fly fishing creates a direct link with the river and its visible and hidden environment, a nourishing discipline rich in knowledge. This combination of different disciplines offers special moments to be experienced with your family, friends or colleagues.
In practice
✨Several 2-day bivouacs are proposed monthly from May to the end of September (dates to be announced).
✨Prices: 390 € to 460 € / pers.
✨Distance travelled along the river: 18 km.
✨Leaves at 9am from EssaOnia, at the Centron-Montgirod leisure park.
✨Minimum age: 14 years. Must be able to swim.
✨Equipment provided: wetsuit, neoprene jacket and boots, CE-standard life jackets and helmets, waterproof bags, bivouac equipment and fishing equipment.
✨What to bring: swimming costume and towel, light clothing that is appropriate for yoga and fishing, warm clothing and light shoes for the evening, head lamp.
✨Tent, sleeping bag and camping mattress (rental optional on prior request)
✨Price includes: supervision by professional guides, loan of specific equipment, the three full meals, hot & cold drinks both days, transport to the starting point and 1-day fishing permit. Possibility of photo/video service by an independent professional, on request.
✨Further information and bookings: https://www.essaonia.net/en/activites/rafting-overnight-expedition-on-the-isere-river/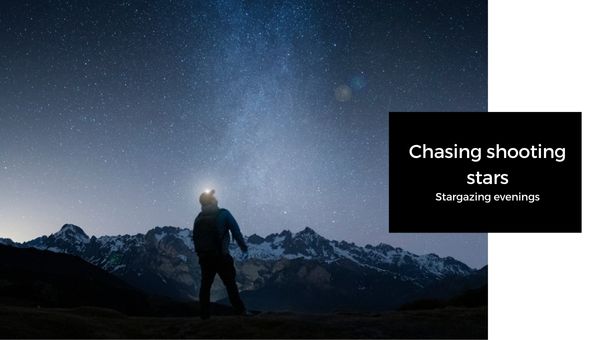 A weekly stargazing evening will be organized by the Montchavin - Les Coches Tourist Office on Plan Bois plateau, unpolluted by any public lighting, in the heart of nature 1800 m above sea level. Accompanied by an expert astronomy guide, the outing is both magical and educational. Participants use both the naked eye and a telescope to observe the stars. While waiting for nightfall, there is the option of a gourmet dinner at the welcoming Chalet du Plan Bois restaurant, which will, of course, be taking care to turn off its lights while you are stargazing!
Montchavin – Les Coches Tourist Office
Tel. 04 79 07 82 82
https://en.la-plagne.com/montchavin-les-coches
Four events over the summer: Thursday 21 & 28 July, 11 & 18 August, stargazing from 9pm.
Meeting on Plan Bois plateau, accessible on foot or by car (free parking).
Minimum age: 6 years.
✨Recommended equipment: head lamp, warm clothing and closed shoes.
✨Free of charge, on reservation at Montchavin – Les Coches Tourist Office
Le Chalet du Plan Bois
Montchavin – Les Coches
Tel. 06 09 34 37 88
Stargazing evening, on reservation only:
✨ adults: formula with main course + dessert at 25 €/pers., aperitif included
✨children: formula with main course + dessert + 1 drink at 15€/pers
A la carte menu: prices from 13 €/main course
Open from 7pm, games available (petanque, molki, ninepins …) for those who will be dining at the restaurant.