Rendez votre séjour à La Plagne plus mémorable avec une balade à vélo à travers la forêt. On oublie pendant un instant le vélo de randonnée standard. Empoignez un vélo de randonnée à assistance électrique robuste et performant. En quelques coups de pédales, vous parcourrez de grandes distances sans fournir un effort trop important. Retrouvez le plaisir de la balade à vélo et vivez une aventure inoubliable.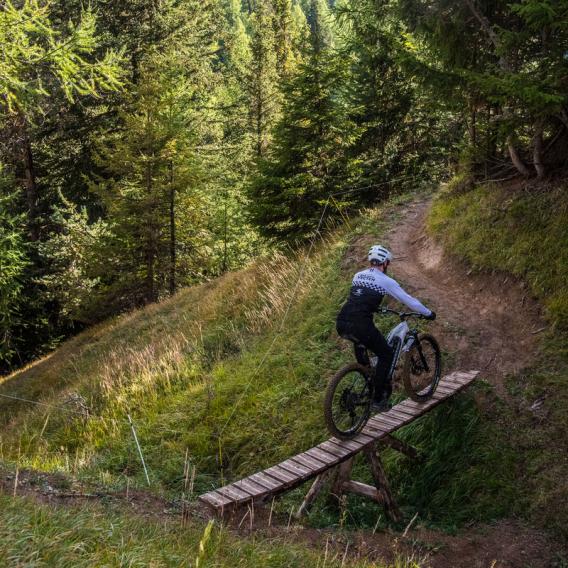 The electric version
E-mountain biking is already very popular so why don't you give it a try? If you're somewhat hesitant about cycling in the mountains, some electric assistance might be just the thing. In a few turns of the wheel, you can reach new horizons, higher up and further on. E-bikes even exist in a 24'' version for children aged about 10.
Moins d'effort, plus de vitesse
Pour faire avancer le vélo électrique, il faudra pédaler. Mais l'effort physique est moins important dans ce cas. Êtes-vous néophyte ? Pas de panique. Vous arriverez à gravir les montées et à grimper les cols au guidon d'un VTTAE, sans poser pied-à-terre. Ce qui vous laisse assez de force pour explorer les merveilles à découvrir au bout de votre sentier.
Vissez votre casque, vérifiez que les genouillères et les coudières sont bien posées. Donnez ensuite vie à vos rêves d'évasion dans les paysages de La Plagne. Les pistes VTTAE sont desservies par des remontées mécaniques. Changez d'itinéraire selon vos convictions et vos envies de découvertes. Passez d'un paysage atypique à l'autre et savourez votre parcours.
Itinéraires pour tous les profils de riders VTTAE
La station de La Plagne réunit plusieurs itinéraires pour le plaisir des randonneurs adeptes du vélo à assistance électrique. Débutants et expérimentés trouveront la piste la plus adaptée à leur profil. Si vous n'arrivez pas à vous décider, demandez des conseils auprès de nos guides. Ils sauront vous renseigner sur les paysages à ne pas manquer sur le sentier que vous aurez décidé d'emprunter.
Toute la famille peut embarquer pour l'aventure. Les enfants auront l'occasion de vivre une expérience loin du béton de la ville. Au contact d'une nature préservée, ils iront à la découverte de leur personne et des capacités qu'elle renferme. Emportez quelques fruits frais et de l'eau, utiles pour combler un creux.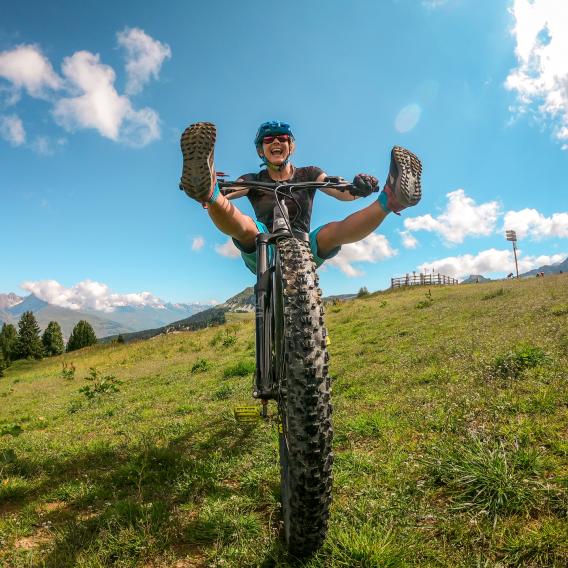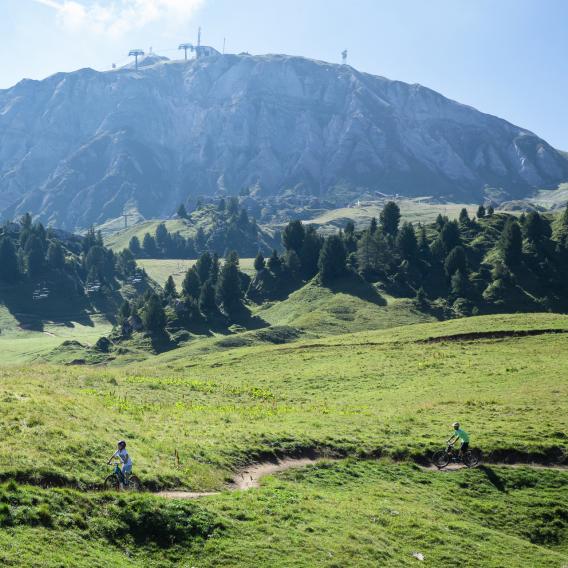 10 specific e-MTB trails
E-mountain biking is a fun and ecological activity that is increasingly popular and offers a solution to the issue of riding uphill! La Plagne has created 10 specific e-MTB trails without any excessively technical sections so that all you need to do is have fun. There are several types of trails on the menu: full day or ½ day with the duration varying according to the total distance and the possible stopping points.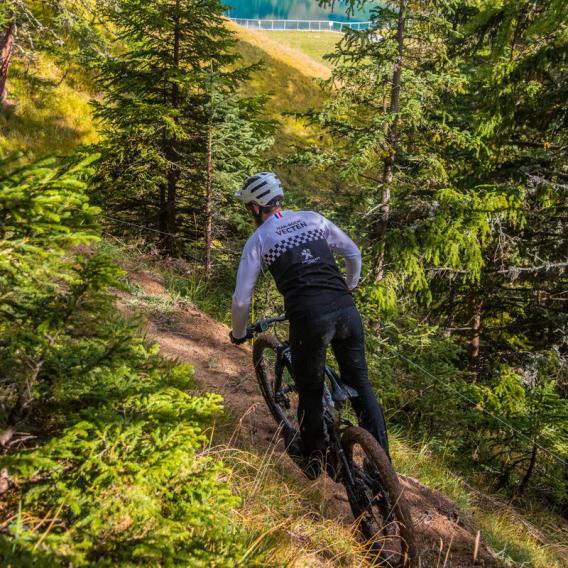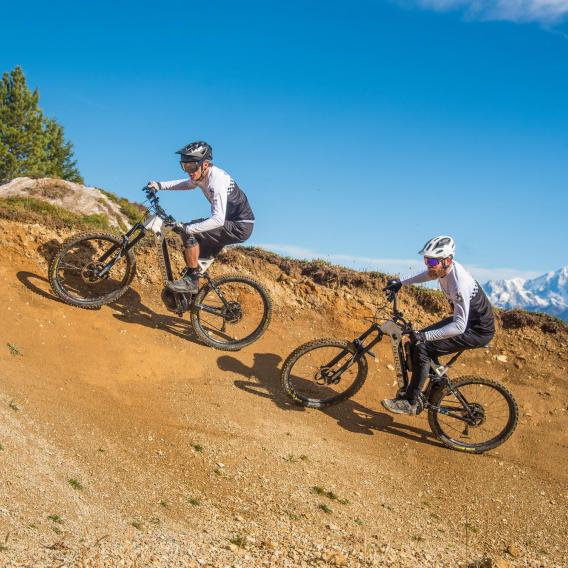 How does it work?
There are electric bike rental locations in all of the La Plagne villages with staff who will explain how the bike works. Get a map to prepare your ride and find out where the recharging points are. Make sure your battery is charged before heading off! Most electric mountain bikes offer 3 levels of power (eco, standard, turbo) that will use more or less battery. We recommend that you manage use according to the time and distance of the trail. The trails have been designed to be ridden mostly in 'standard' mode.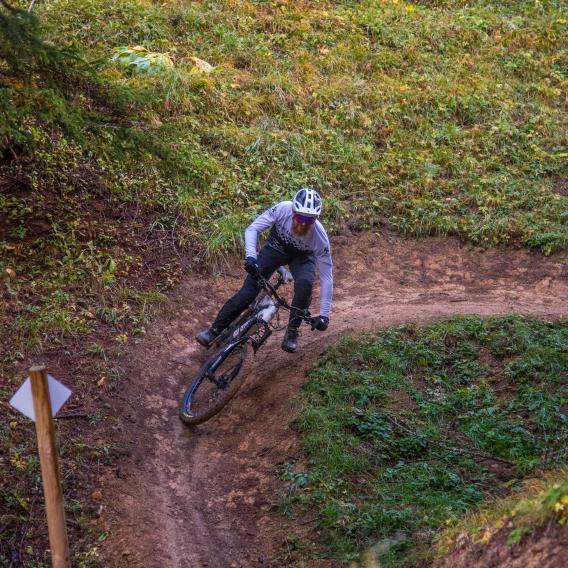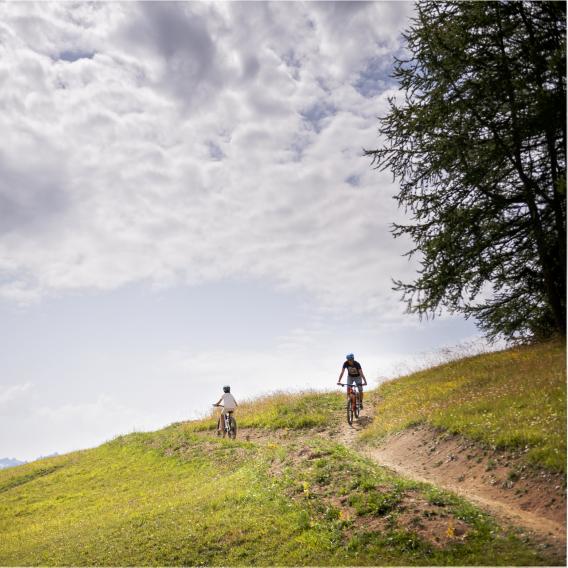 E-spot
Sorry, what…? These are fun zones for e-mountain bikes. Raised bends, modules, jumps and varying gradients make E-spots places where you have fun going up and down. Accessible from the e-MTB trails, you can use them to test your bike's full potential.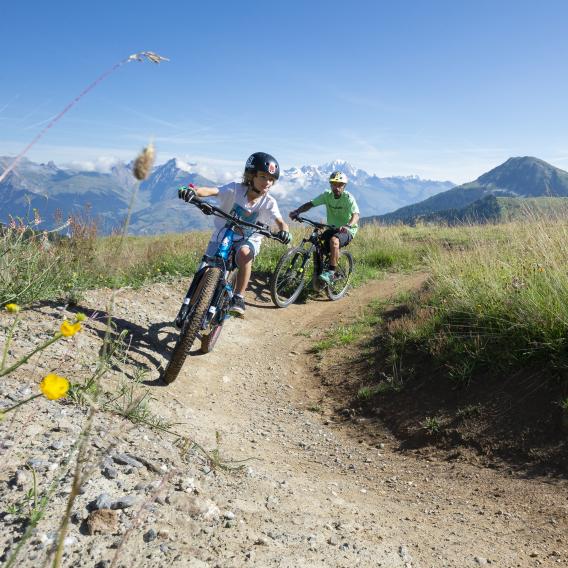 MTB lift tickets
Our E-spots are accessible free of charge. However, if you want to get from one to another more easily, the lifts can prove useful. On sale at ski lift sales points (no summer pass sales at the tourist office).
| Pedestrian / MTB - La Plagne | Adult (>12yrs) | Child (5-12yrs) |
| --- | --- | --- |
| 1 lift | 8 € | 6,5 € |
| 4 lifts | 26 € | 26 € |
| 1 day | 19 € | 16 € |
| 3h MTB (Bike Park) | 15 € | 15 € |
Get the mountain bike plan