When dance magnifies the mountain
Marie Bérard, a La Plagne local born and bred and a professional dancer in Paris, has put all her love of her native resort into this aerial and poetic choreography, created specifically for La Plagne's 60th anniversary. At the top of the mythical Mont-Saint-Jacques, a mountain she is particularly fond of, Marie and her dance partner offer us a spectacular moment of grace in a breathtaking panorama. An artistic feat and a touching declaration.
Who is Marie?
With a father who was a ski patroller in the resort and a mother who was a physiotherapist and osteopath in Plagne Bellecôte, Marie grew up between the valley and La Plagne, according to the season. For her, the resort with the red hat logo is both her home and her family: "All my childhood memories are there, shared with all my friends of the same generation". She skied in the Club des Sports and participated in summer shows under the big top in Plagne Bellecôte. These early experiences triggered her passion for the stage.

Although Marie always wanted to dance, she started quite late, around 8 or 9 years old: "As soon as I put on a pair of ballet shoes, I wanted to go to the Paris Opéra ballet school. I had big dreams very early on, even if it is not easy to follow a dance-study course coming from here...". After training in dance and taking her baccalaureate in Moûtiers, the young woman headed to Paris where she joined a school: "For four years, I was trained much more intensely, with 8 hours of classical, modern and contemporary dance, plus acting and singing every day." Marie gradually developed her network and joined the troupe of "Mozart, l'opéra rock" when it was first put together more than 10 years ago: "I still work with them". Today, Marie dances all over the world but also comes back to her native region: "I work regularly for the Folie Douce".
Geoffrey Ploquin, her partner, is an experienced dancer and a long-time friend: "In this project that I put so much of myself and my intimate feelings into, I had to work  with someone who is both talented and who I trust".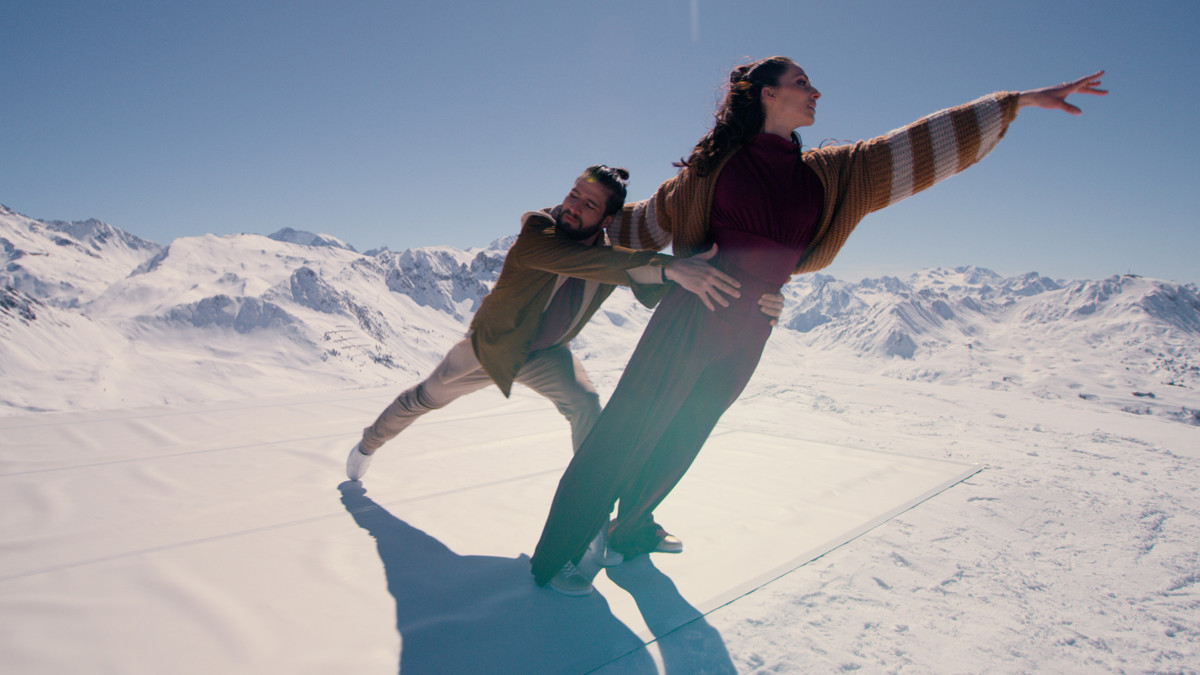 All local young talents
The idea of dancing on top of a mountain germinated during a discussion between Marie and her childhood friend, Charlie Bellemin, head of the Feel Experience agency: "We've known each other since we were two years old. Five years ago, we discussed the idea of combining our talents and creating an artistic project in La Plagne that was different and unusual. But it was more a discussion between friends than a concrete idea, and then we both went off again". But last winter was the right time for Charlie to make the project a reality: the ski lifts were closed, schedules were more flexible and La Plagne was coming up to its 60th anniversary.

A team was formed with Mathias Lopez as director (director of the "Fast Forward" videos with local champion Kevin Rolland) and the young photographer and videographer Ambroise Abondance as second cameraman. Marie was in charge of creating the choreography in the studio in Paris, along with her partner. Finally, the original music for the video was composed by Andy Favre, who also grew up in the Tarentaise before moving to the United States 15 years ago. His melody is both soft and rhythmic, a perfect accompaniment to the images: "Charlie and Mathias gave me a very precise artistic direction, while leaving me considerable creative freedom" says Andy.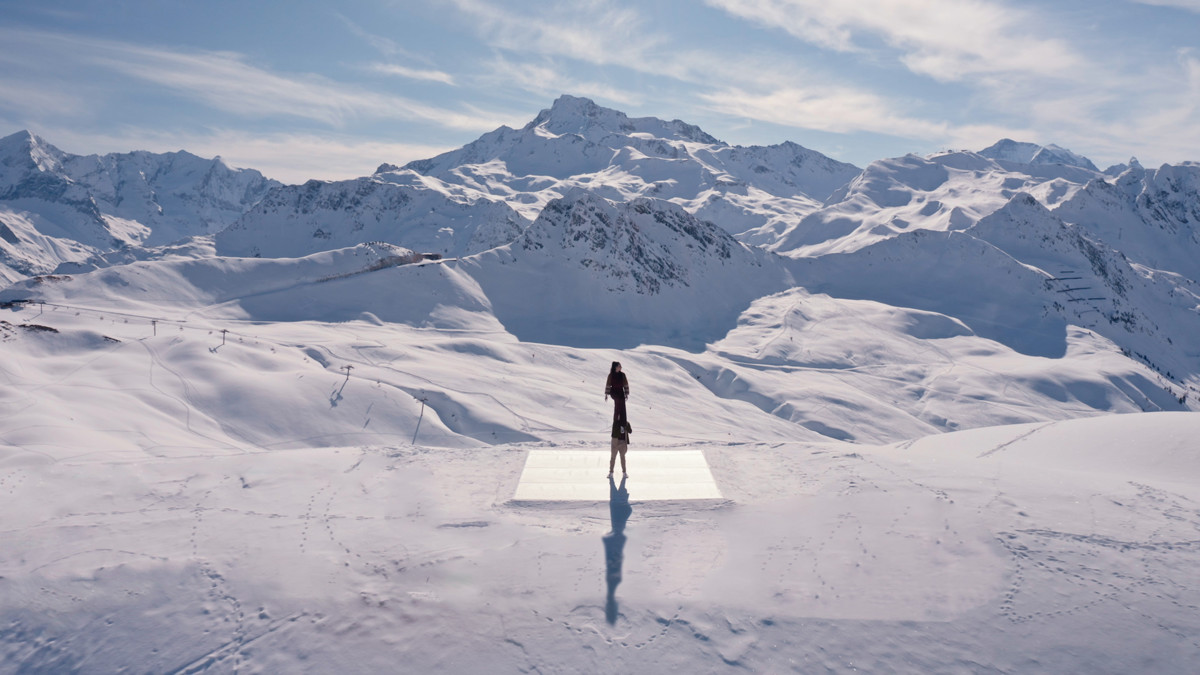 An artistic, sporting and technical feat
The choreography is technical and includes a number of lifts. It is a committed artistic performance, that had to be performed at an altitude of 2,000 meters. To acclimatize and prepare, the two dancers came to stay in La Plagne four days before the shoot. On D-Day, the cold, but especially the light, proved to be a major issue: "It is not easy to dance in the cold, but we were able to manage that. The most difficult thing was the sun. We couldn't dance with glasses on but there was the white snow on the ground and all around us. We put our sunglasses back on between takes, but, at the end, it was very hard on our eyes. The same went for our skin: in spite of using sun cream, we actually got sunburnt scalps...". The shoot was a strong and very physical moment, a unique experience: "We knew that we wouldn't have the opportunity to do that many times in our lives. It was a moment to seize and we really invested ourselves in the experience".

The Feel Experience team took care of the logistics. Choosing and installing the dance floor on the mountain top was particularly tricky. This type of dance floor does not react well to the cold and had to be unfolded in a room and then folded again before being taken to the top of the mountain. The team also had to manage all the parameters imposed by the high mountain: securing the snow for transporting the equipment and the team, and the weather conditions: "We were supposed to have a day and a half of shooting, but, in the end, we only had one day. We had to adapt very quickly" recalls Marie.
A strong message and a declaration of love to the station
"This dance is also a little my story. When I knew we would be dancing it at the top of Saint-Jacques, I cried."
A legendary summit in La Plagne, Mont-Saint-Jacques is also the first mountain that Marie climbed when she was two and a half. It was the meeting place for family picnics and blueberry picking at the end of the summer: "I have fabulous childhood memories of that place". The story told by the choreography is also that of a girl who loves La Plagne and who introduces a friend to the mountain. "This transmission passes through movements, gestures and glances towards the summits. The aerial side is represented by me, the girl in the duo, and the strength of nature is represented by the boy. It is the sharing of a strong moment of complicity. La Plagne is an eclectic resort and it had to mean something to everyone".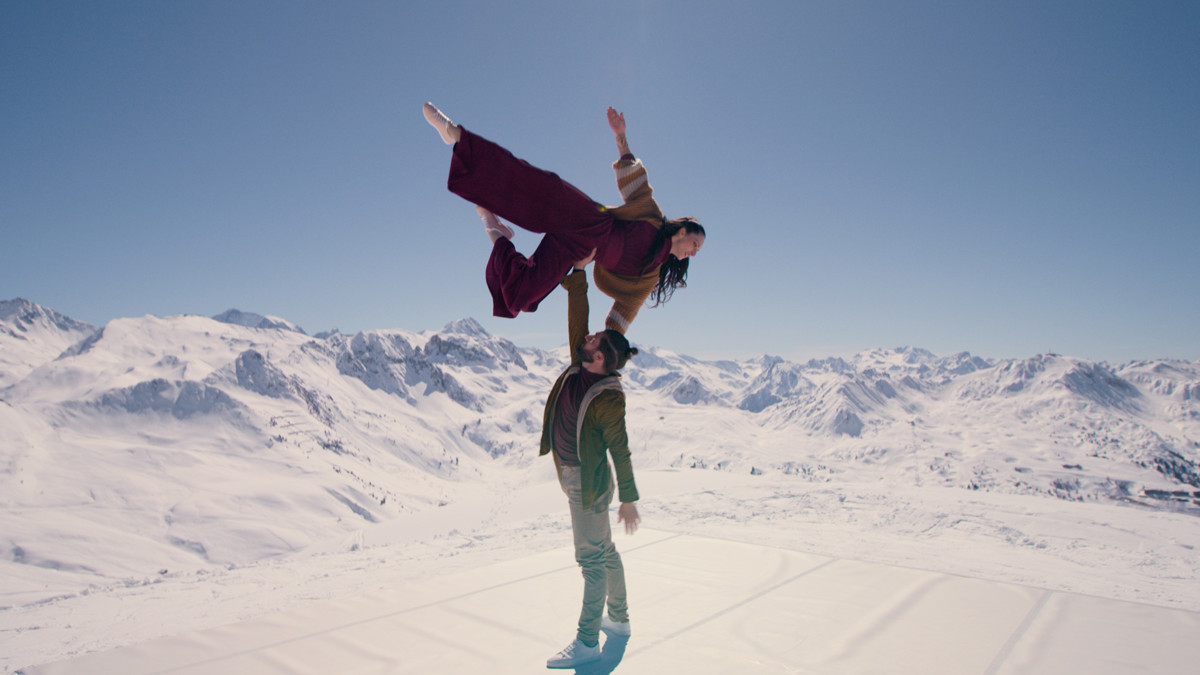 The shoot in 7 key figures
2.09 minutes. Of original musical.
2,407 meters. The altitude at the top of Mont-Saint-Jacques.
15 days. Of adapting the schedule to capricious weather conditions.
25 m². The stage, created and transported to 2 407 m above sea level.
40 hours. Of choreographic creation from Paris to the top of Mont-Saint-Jacques.
2 days. Filming at an altitude of 2,407 m.
11 people. On site during the shoot.
…