Having a disability and wanting to enjoy a week on the ski slopes is in no way incompatible in La Plagne. The flag bearer of this"handi-friendly" spirit is undoubtedly Aime 2000, which opened in 1969 and is nicknamed the "cruise ship" d'Aime 2000. The residence is extremely easy in terms of circulation and access to the slopes. No less than 87 disabled owners* have opted to purchase an apartment in Aime 2000. Across the ski area and in the ski schools, this culture has been firmly inculcated, as demonstrated by the numbers which speak for themselves and a new activity to be introduced this winter: ski lessons for deaf skiers.
* Indicative number 2020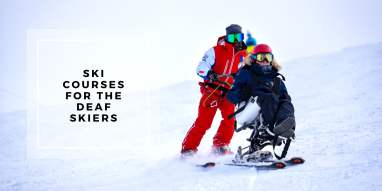 Five ski courses for the deaf skiers
he idea started at Belle Plagne's ESF ski school:  
For Mélissa, one of our instructors, sign language is her mother tongue because both of her parents are deaf. She and her partner, Pierrick, are the driving force of these new 1-week ski courses which will allow these clients to make progress and which will end with a timed competition on the Belle Plagne slalom field. 
explains Thierry Jadot, director of ESF Belle Plagne. In total, five instructors are fluent in sign language and can propose private or group lessons. The ESF's ambition is to 
make Belle Plagne a reference holiday location for these skiers, with an offer that is adapted and attractive in terms of accommodation, ski passes and activities. 
"The Silent World" in mountain mode
It's quite a different atmosphere since it all takes place in total silence. To talk to the skier and give them instructions, the instructor needs to be in front of them. At the prizegiving after the final competition, they express their pleasure with jumps and raised hands, it's a unique experience.
Thierry Jadot, ESF Belle Plagne
✨Dates: 18 - 24 December / 7 - 14 January / 28 January to 4 February / 8, 9 & 10 March (3-day session specifically for racing) / 1 - 8 April.
✨TAll leevels
✨Prices from 163 € / person (group lesson) and from 65 € / person (private lesson)
La Plagne stands out from the crowd: key info on adaptive skiing
✨ a pioneering spirit: some ski schools have been proposing adaptive ski lessons for over 20 years, like the ESF Aime 2000 and Belle Plagne, as well as Oxygène 
✨ instructors: up to 100 instructors in the altitude sites alone
✨ training time: from two days to over a week, according to the ski schools
✨ hours of lessons: between 500 and 3000 hours per season, in other words up to 10% of their total hours of teaching, according to the ski schools
✨ types of disability: physical and cognitive, from the lightest to the heaviest
✨ types of adaptive equipment: several types including the Dualski chair made by local manufacturer Tessier (based in Montmélian) and the "Go to ski" designed and developed in La Plagne by the ingenious Marc Gostoli, which makes it possible to ski upright using mainly the upper limbs
✨ ski area : -50 % discount on ski pass prices. On the slopes: well-tested procedures for getting on and off the lifts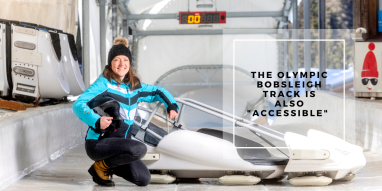 A unique site in France, disabled visitors are welcome at the bobsleigh track. To go down the 1.5 km ice tunnel, the person is settled in a Bob Raft (sitting position at 80 km/h) or a Speed Luge (lying back at 90 km/h). Both machines drive and brake on their own. Bob Racing (in a sitting position, with a professional pilot, at 110 km/h) is accessible for paraplegics paralysed below the pelvis (medical advice required). Who are the participants? Associations mainly, particularly associations for heavy handicaps.
Despite the change in people's way of thinking, with just a dozen descents last winter, it remains a tiny part of the total number.