In La Plagne, you don't have to wait for Valentine's Day to declare your love…
If you are looking for romantic ideas to surprise your loved one during your holiday, you are in the right place! Follow the guide...
Where to sleep on the slopes?
For an unforgettable holiday, offer your sweetheart an original overnight stay. Discover our selection of places to stay that you can only get to via the ski lifts or the slopes, on snowshoes or on touring skis.
❤️ Over the moon
"Love you to the moon and back"... It is at the top of the mountain under the starry sky that you can make your most beautiful declaration of love. Over the moon is a unique hotel room and probably the most romantic one in the world. The concept is an original night 2,400 m above sea level in a snow groomer that has been fitted out as a luxury suite. Your comfort is guaranteed, with a king-size bed, heating, music, a home cinema, breakfast and some surprises! To complete the experience, enjoy a glass of champagne in the Jacuzzi facing Mont Blanc, with no one around for miles.
✨ Discover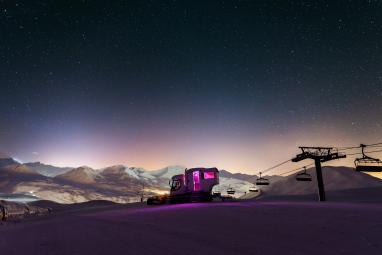 ❤️ L'auberge « Chez Pat du Sauget » 
Since 1972, the notions of a "home from home" and a tailor-made welcome have taken on their full meaning here! Patricia and Gérard dine with their guests every evening, enjoying a meal based on instinctive cuisine: "Cooking is first and foremost about sharing". Professional and meticulous, every detail counts, from the homemade jam to the sheets that come from the local Arpin mill, to the concern for visitors' individual requirements.
At the beginning, le Sauget was a small family Alpine chalet. Together with his son, Samuel, Gérard renovated and extended it himself to create this inn on the slopes that he knows so well, since he was Montchavin's first ski patroller in 1973. For her part, Patricia was the first ski instructor in Plagne Aime 2000. It was a real challenge to create the 5 bedrooms in 1995, but it has been a real success!
✨ Discover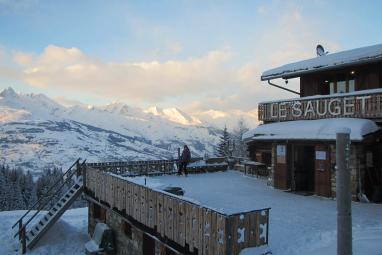 ❤️ Le Chalet du Friolin 
The address: just at the bottom of Les Bauches chairlift! When you look at the piste map, you can see straight away that the Chalet du Friolin is in a valley away from the bustle of the resort, 5 km from the next village along a track in the forest. Silence reigns supreme once the lifts are closed. Life in the chalet starts then for the guests who have chosen to stay: reading on a cosy sofa by the fireplace in one of the 5 lounge areas, enjoying an outdoor Jacuzzi/sauna before recharging their batteries with a delicious meal shared with the other guests. It is a delightful break from the daily routine thanks to the warm welcome from Yaya and Axel. The added extras: children aged 0 to 4 years are free. Sébastien, the chef, proposes vegetarian and gluten-free dishes on request. Beauty treatments or massages can also be reserved on request.
 ✨ Discover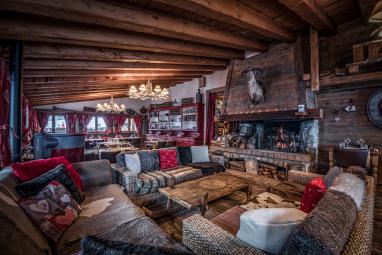 Where to declare your love?
We have cultivated an atmosphere of lightness and freedom in La Plagne... Like an invitation to dream and embrace as you admire the mountain views. 
❤️ The Grande Rochette heart
Since La Plagne is the perfect place to give your heart away, it is also where you can find one. Immortalise your happiest moments in the heart at the Grande rochette.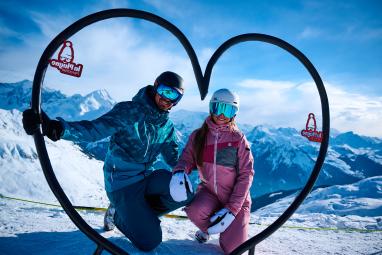 ❤️ Destination glacier 
If you are in seventh heaven... take your loved one to the La Plagne glacier for an incredible experience 3200 m above sea level. The glacier is accessible to good skiers as soon as the resort opens. In its winter coat, it offers Natur'  slopes: ones that are not groomed, but are marked out and secured.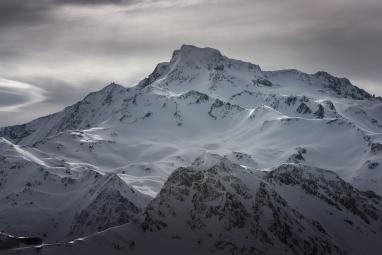 ❤️ Le Balcon du Bozelet
THE spot to toast each other with its breathtaking views of the Vanoise glaciers.
✨ Discover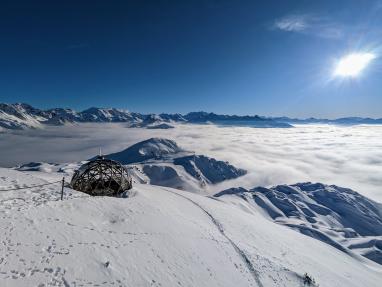 ❤️The Champagny-en-Vanoise ice cave
If you want to propose during your holiday in La Plagne... why not do it in an ice cave?! Just like in the tales of Narnia, the Champagny-en-Vanoise ice cave has sculptures of animals. Will you be brave enough to get down on one knee in this world of ice and frost?
How to thrill them?
❤️ Snowshoe hikes and evening snowshoe outings with a meal
Set off for a romantic walk by torchlight, discovering the night-time landscape on snowshoes. The evening can continue with a mulled wine aperitif, a fondue or any other way you choose!...
✨ List of all our snowshoe guides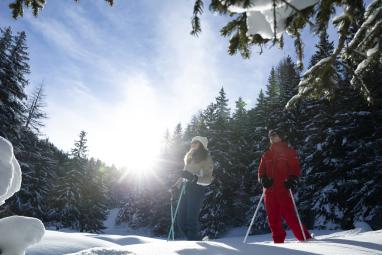 ❤️ Dog sledding
Drawn by adorable furry 4-legged friends, set off on a magical outing with La Plagne's sledge dogs.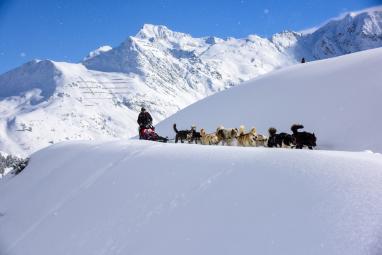 ❤️ Deep Nature Bains & spa La Plagne
To share a relaxing moment with your other half, head straight to Deep Nature! Outdoor pools, saunas & steam rooms, draped in a soft bathrobe, let yourself be pampered...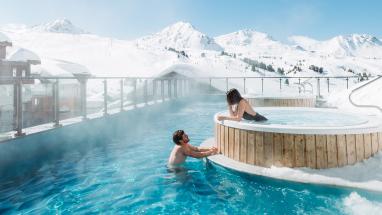 ❤️ Bobsleigh descent at 80 km/h or more
To get their heart beating faster, take your beloved for a descent on France's one and only bobsleigh track. In a Bob Raft (80 km/h, self-steering and self-braking) or a Bob Racing (120 km/h, with a professional pilot), get your fill of thrills!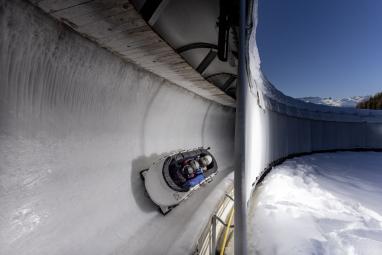 ❤️The Super Tyro... by night!
An unforgettable 600 m zip wire descent that is even more thrilling at night. The Super Tyro goes from Plagne Aime 2000 to Plagne Centre, in other words a dizzying descent of 600 m facing Mont Blanc.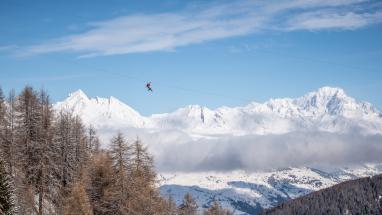 ❤️ The ice tower at Champagny-en-Vanoise
Enjoy a chilling thrill for 2 when you invite your loved one to climb the  ice tower in Champagny-en-Vanoise. The 24-metre high, man-made structure offers routes of varying difficulty. Introduction with a guide.