Development of La Plagne's high-altitude ski area:
Winter 2023-2024 will be a turning point for the high-altitude ski area which now has a whole new look. The trajectory of the brand-new gondola that will open in December now sets La Plagne's highest point at 3,080 m.
After 40 years of loyal service, the old gondola had to be replaced. The project comes as a response to a rapidly changing environmental context as well as the desire of the SAP (Société d'Aménagement de La Plagne), the company in charge of managing the ski area, to offer a high-altitude experience to a wider clientele of skiers and non-skiers in both winter and summer. A change of direction that is embodied in the new "Live 3000" area.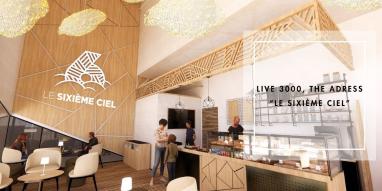 The new "Live 3000" area
In both summer and winter, getting to the topmost peaks 3,080 m above sea level is an experience in itself. After a 10-minute ascension, as soon as the gondola doors open, skiers and non-skiers will discover an area that has been developed to offer a moment of contemplative relaxation. Like a refuge with its cosy atmosphere, Le Sixième Ciel will be proposing sweet and savoury snacks to enjoy inside or on the terrace, with a front row panoramic view of the Vanoise glaciers. There are also Wi-Fi and photo spots and information boards explaining the surrounding landscapes.
This sector is now accessible to intermediate skiers, with two black runs and one red leaving from Live 3000, as well as a red run and a blue run that start from La Chiaupe midway station.
For non-skiers, there is a "Live 3000" day pass and two walking trails, the first starting from La Chiaupe station and the other at the very top at 3,080 m.
High-altitude area: the start of a new era
In 2023, the redevelopment of the sector consisted of leaving the permafrost* zone where the old installations are to be dismantled over a three year period. To provide a faster and longer-term access to this part of the ski area, the trajectory of the new lift has been moved to another high-altitude peak (3,080 m), a little further south and, above all, anchored in the rock.
→ In concrete terms, the key figures of this move
The facilities on the Glacier de la Chiaupe are to be dismantled within 3 years:
- 35 pylons and poles removed
- 630 m of lift cables removed
- 1,800 m of electric cables removed 
- 9 buildings removed
- 606 m2 of building space removed
- 9 hectares less with ski runs
- 1 ski lift instead of 4
A brand new gondola to ride up to the top of La Plagne
The 2023-2024 winter season will mark the opening of the new line of the Les Glaciers gondola. While the departure point is still the same (Roche de Mio), the line will now follow a new trajectory, arriving at an altitude of 3,080 m.
One notable feature: La Plagne is France's only ski resort to install its own lifts. This new lift is therefore the work of SAP Montage, an in-house team the SAP is very proud of, with all the required skills, ranging from the civil engineering to the on-site assembly.
→ Technical data for Les Glaciers gondola
- 10-seat cabins
- Constructors: Pomagalski and Ingelo
- Altitude lower station (Roche de Mio): 2,715 m
- Altitude top station: 3,080 m
- Flow: 2,700 people / hour
- Ascension time: 10 min
So what comes next? A new gondola to reach the intermediate station at Roche de Mio
This step is part of a global development project from Plagne Bellecôte up to the high-altitude area between now and 2025. The next stage, currently under study, is a new gondola to join Roche de Mio (commissioning scheduled for December 2025).
*Permafrost: designates soil that is trapped in ice all year round.