Going skiing with your four-legged friend is a great idea. If you can't experience the joys of skiing, your pooch should LOVE the snow, which seems to have been created specifically for him and is as fresh and soft as can be. For a (ac)fang-free holiday, don't neglect the preparation of your holiday.
This article aims to answer all your questions: what you need to know before leaving, ideas for walks by site, what is accessible or not, ... Remember that La Plagne is spread over 11 sites whose common denominator is the ski area (and the Red Bonnet of course). First piece of advice: make sure you know where you are staying so that you can take advantage of the information that suits you.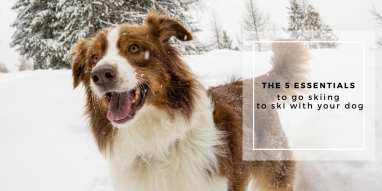 Make sure that your accommodation provider accepts dogs and, if so, ask if there are any conditions for your pet.
For the return journey, by train or car, think about breaks and hydration, even if it's winter!
City or mountain, the same battle: the poop bag is the obligatory accessory for walks; dispensers will help out those with a headache. This is a point that we insist on in order to respect the mountain environment and other users!
Once you have settled into your accommodation, make sure your dog feels at home by bringing him his basket or familiar objects. This will reassure him while you wait for your return from skiing and the next walk.
In the resort, dog sitters offer their services. Contact the tourist office to find out more.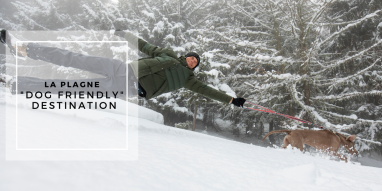 Dogs are allowed on all pedestrian-accessible gondolas, which opens up a whole new range of possibilities for outings!
The same applies to the free inter-site connections: your dog can accompany you on the bus too.
Looking for ideas for walks or hikes? A free map of the footpaths/snowshoe trails will be given to you at the tourist office nearest your accommodation.
In Montalbert there is the "Toutou Street", a pedestrian trail dedicated to your walks, with poop bags available of course. 
A word of warning, however, in the vicinity of sites where sled dogs are present: keep your distance and keep your dog on a lead.