Going on holiday to La Plagne means you have chosen to ski in one of the world's largest ski area, Paradiski®. La Plagne offers endless skiing possibilities, whether you are an expert, a beginner, wanting places to play or more contemplative.
The ski area faces in all directions. La Plagne Paradiski® has 425 km of ski runs, 70 % of which are above 2000 m altitude, guaranteeing good snow conditions throughout the season. On your marks, get ready…Ski!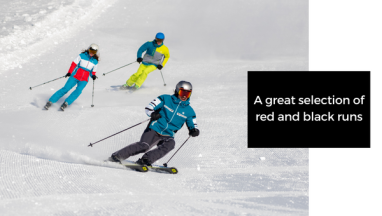 A great selection of red and black runs
La Plagne offers some wonderful technical descents and has several secured and ungroomed "Natur" runs that are perfect for expert skiers. A number of black runs come down from the peaks above Plagne Aime 2000. From the top of Les Verdons, above Plagne Centre, the sunny slopes of Champagny-en-Vanoise stretch out beneath your skis. There is a selection of different runs (ranging from blue to black), with oriental names that were influenced by their creation at the time of the Winter Olympic Games in Japan: Hara-Kiri, Kamikaze, Geisha… THE slope that skiers hope to tick off their list is Le Mont de la Guerre, nearly 1200m of descent through pastures, rises and forest without seeing a single ski lift. To race down from top to bottom, or to savour, as you prefer.
We take the chairlifts (Borseliers, Rossa and Carella) to reach the summit of Roche de Mio, at to reach the summit of Roche de Mio, at 2500m. From there, to gain even more altitude, you can take the Bellecôte gondola which goes up to the foot of the glacier, the topmost point of the ski area at 3200m. This area is reserved for good skiers who are not afraid of burning thigh muscles as they ski the mogul runs. The boldest ones will do the entire run on blacks, taking the Rochu then the Dérochoir, right down to the valley of Les Bauches.
Here we take 2 chairlifts and enjoy some nice slopes in the forest among the wide palette to choose from Montchavin-Les Coches sector. This is also here the crossing point to the ski area of Les Arcs and Peisey- Vallandry, with the Vanoise Express, umbilical cord of the skiable domain of Paradiski®. Do you dare to try the crossing to Villaroger during the day?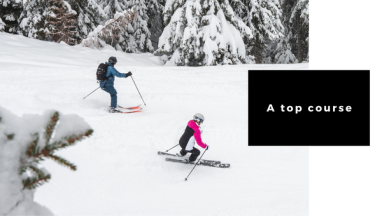 An amazing ski course...
You can set off on this trip from any of the villages of La Plagne, doing it in one day or in a more leisurely version over two days. It starts in Plagne Centre,where you can take Bécoin chairlift to the  slopes above Plagne Aime 2000. From there, a blue or black run takes you to Les
Adrets chairlift. Then you're off for a long descent (blue or red) through the forest to Montalbert before taking La Plagne's most recent gondola that arrives at Le Fornelet.
To go down, two options are available : the blue one, Les Adrets run, or the red one towards the Grenouilles run (finishing in a pretty valley along
a stream) before continuing on down Cornegidouille to La Roche, the village that used to be a mining site and is now where the Olympic bobsleigh track arrives. Then its back up to Plagne Aime 2000, the highest site in La Plagne, where you can enjoy an architectural tour... on skis!
Bolder skiers can take the 600 m zip line down with their skis strapped to their back and enjoy the fantastic view of Mont Blanc. From Plagne Centre, la Lovatière chairlift takes you to the top of Les Verdons in just a few minutes for a lovely run down on the sunny slopes of Champagny-en-Vanoise. Three chairlifts later, you are 2739m above sea level, at the Roche de Mio.To ride down to Plagne Bellecôte, you can choose between
a red or a blue run. On the very comfortable Arpette chairlift, take a look at the piste map and decide whether to take the visitor line of the new Riders Nation snowpark, or the blue or the red run winding through the forest of Montchavin-Les-Coches. Your intense day of skiing is coming to an end. You will appreciate the time you get to rest on the series of chairlifts taking you back to Plagne Bellecôte or Plagne Centre.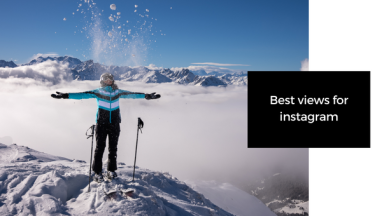 Best views for instagram
What you love doing during your holidays is taking the time to admire the scenery. Well, that is perfect as La Plagne offers breathtaking panoramas so you can add to your social media and get even more "likes". We all know that the higher up you are the better the view, so we're taking you up to some of the resort's main summits.
Les Verdons: a 360° panorama of Roche de Mio, the Pierra Menta, Le Roignais and Mont-Blanc in the background, and on the other side La Saulire, the Vanoise glaciers, La Grande Casse and the 3 Vallées further off.
Le Fornelet: a 360° view, with La Pause terrace that has picnic tables, giant deck chairs and closed lockers where you can recharge your mobile. It is also the departure point for a number of hiking trails including La Forêt des Lutins and Le Bois des Fornettes.
La Grande Rochette: pause to pose in the metal heart that is there for that very reason and post the picture!
La Roche de Mio: a must-see !
Le Glacier: lthe resort's highest viewpoint with an orientation table so that you do not miss any of the surrounding peaks.
Le Dos Rond: a view over the Upper Tarentaise valley with a 360° view of the surrounding mountains (Mont Pourri, Bellecôte, Le Beaufortain, Les Aravis, Mont Blanc… )
Also - Yuge app takes care of your souvenir photos: strike a pose with Plagne Ange, the metal angel at the top of the Arpette chairlift or get a Selfie In The Air on Colosses or Bécoin chairlifts...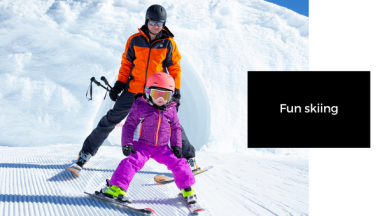 Fun skiing
If you have come on holiday with your whole tribe, La Plagne is the perfect destination for families. Each site has its own kids' ski garden supervised by instructors who will take great care of your little ones.
La Plagne is also home to fun zones that will encourage your kids to ski from one side of the resort to the other: the Funslope in Plagne Bellecôte, the Buffalo Park and Buffalo Kids slope in Plagne Centre, the Forêt des Lutins in Montalbert, the timed and recorded Slalom in Plagne Aime 2000… Freestylers are not left out with zones specifically for them. During their holiday, they can have a go at a range of disciplines: boardercross (Montchavin-Les Coches and Champagny-en-Vanoise), the new "Riders Nation" snowpark (Montchavin-Les Coches)…