We met 28-year-old Manon who has been a shepherdess in Granier, on the other side of the valley from La Plagne, for 3 years. With her frank smile and sparkling eyes, we knew straight away that she would tell us a great story, her own story. And her partnership with Tim seems to be paying off: at the market, her yoghurts and cheeses sell like hotcakes! We wanted to uncover her secrets and enter into her life as a shepherdess, just for a short time.

First and foremost, how do you become a shepherdess?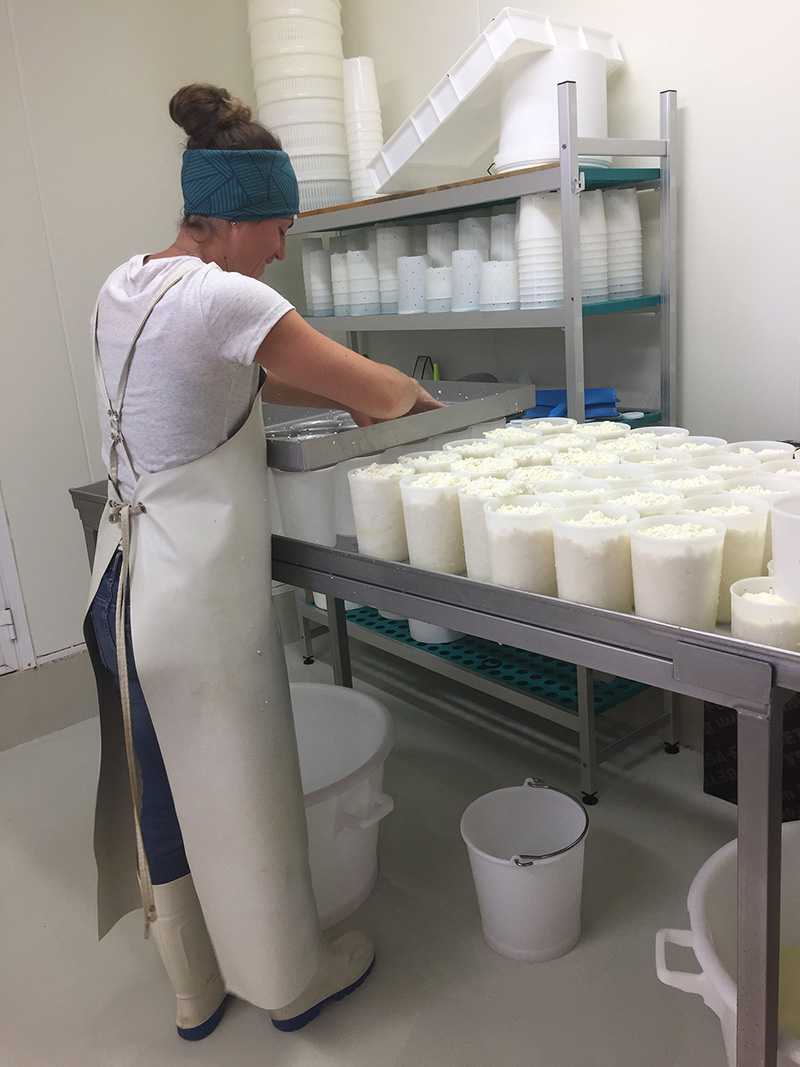 Manon loves animals and so, to be able to use this passion, she embarked on a professional diploma in farm management. That was where she met Timothée and they both decided to try working in the mountain pastures. Although Manon didn't know it yet, this was the start of it all. Up in the mountains, between the Beaufortain and Tarentaise valleys, she was actually living with her animals. She lives with and off the animals, looking after them, protecting them and shepherding them.
Bringing to fruition their project for keeping sheep in Bonvillard took time, training in cheesemaking at the ENIL (Public Agricultural Training Establishments) in Poligny and a lot of courage: aged just 25, they set up their business and settled in Granier.

So, is it a professional idyll or a confrontation with nature?
When you hear her hearty laugh, it certainly sounds like Manon is living an idyll. After 3 years of farming, she certainly considers herself to be fortunate: she makes her living from her flock of sheep, she is her own boss and every day is a discovery. According to her, "Happiness is when you get up at dawn and find your 150 sheep still sleeping". In short, she is living her dream.
When you ask her what she loves about her job, she replies "Everything" and adds: "When I sell my cheese at the market, I am proud to think that I have made it myself. Our sheep produce the raw material and our hands make the cheese". The diversity of activities contributes to the interest of her job and the passion it requires.
Of course, there is always a flip side. Being a shepherdess is a lot of work. It means working 7/7 from October to August, getting up before dawn and living with the vagaries of life. A sick sheep cannot wait, nor does a storm! Having said that, if Manon was surprised by anything, it was by how easy she found it to do the job, especially as she was never a morning person.

What does a day with Manon look like?
4.30am – she wakes up, reminds herself that she loves her work and goes up to the pasture to see the sheep
5.30am – it's time for the morning milking and she has a front seat for the sunrise
6.30am – while Manon puts the sheep in the fields, Tim starts transforming the milk from the day before (demoulding, heating and moulding the yoghurt)
7h30 – Manon joins Tim in the dairy with the milk from that morning and together they work on production until noon
12 noon – lunch break and siesta!
2pm – back to the dairy to take the yoghurts out of the sterilizer and prepare the products for the next day's market
3pm – Manon and Tim go back up to the pasture, where the sheep are waiting impatiently for them
4.30pm – second session of milking
5.30pm – back to the dairy with the milk
6.30pm – opening of the shop for direct sales; we recommend that you take your children with you, they will love the farm animals and the welcome they get from their owners!
7.30pm – end of the day (phew!)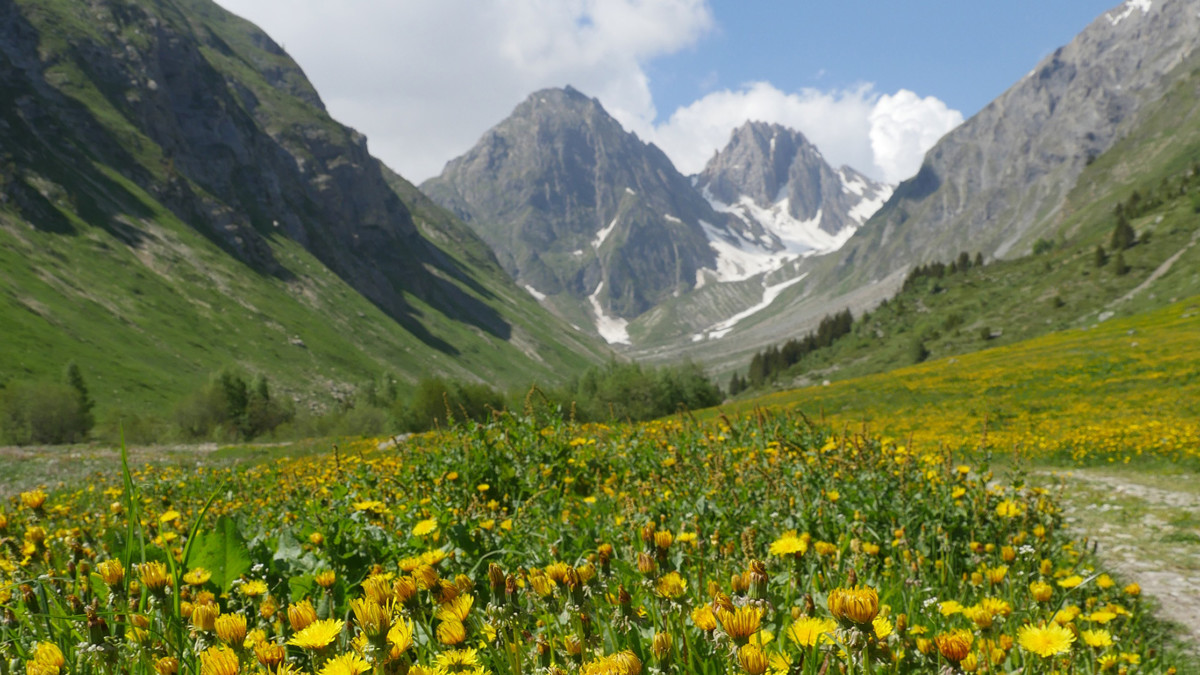 Have we tempted you ?
With all this talk of cheese, you are probably imagining a large slice of it on your plate…so are we! You can find the Bergerie de Bonvillard every week at the markets in Moûtiers, Aime and Bourg-Saint-Maurice. You can also go directly to the farm at the end of the day. See opening times on their Facebook pag .
What will you find there? Their speciality, the Brebichon. Similar to Reblochon in its creamy texture, it has all the qualities of sheep's cheese, which is lighter and easier to digest. Melted over potatoes or cold with a glass of wine, the Brebichon will surprise you. Tim and Manon also make Tome and blue cheeses and yoghurts.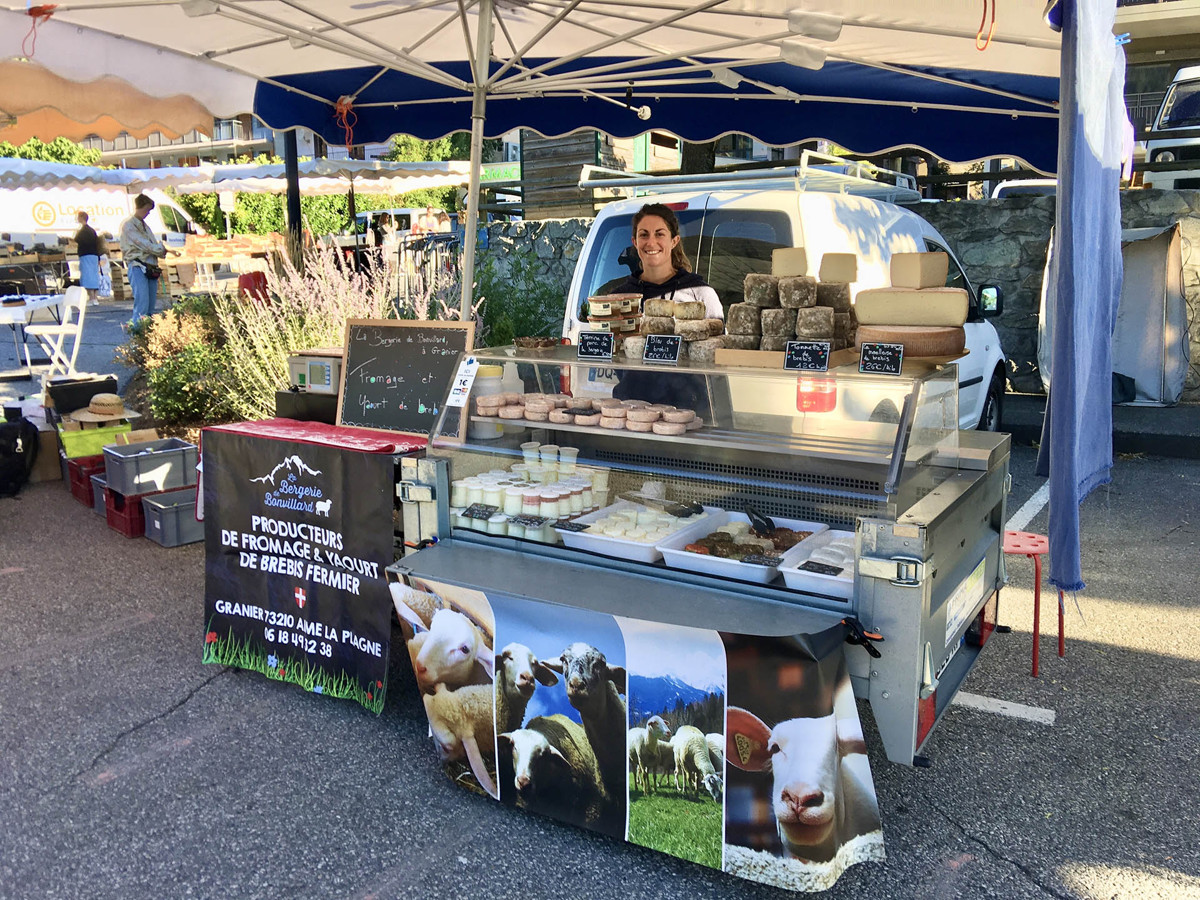 They offer a wide range that meets a strong demand. With the current trend for sheep's milk, their success grew rapidly. Manon enjoys herself with her customers. One of them told her: "I have never told my children that they were eating yoghurt made with sheep's milk! It's so creamy that they can't tell the difference…"
Did you know? He is man's best friend and extremely hard working: a dog, of course. They are a shepherd's right-hand man, with some protecting the herd whilst others drive them. Timothée has made an art of it and takes part in competitions where sheep dogs show all that they can do. In other words, the Bonvillard sheep have found their master!