In France, over six million households have one member of the family that is hairier than the others. And, according to an Ipsos survey, 44% of dog owners take their companion on holiday. You may be one of these…in any case, we know that there are many of you who enjoy a holiday with your doggy friend. So in La Plagne, on ne vous en parle même pas ! 😊
| What can you plan to do with your 4-legged friend?
In both summer and winter, you can go hiking, of course; and there is a plethora of trails! Some go through the forest, others climb to the mountain peaks or run alongside a river… In short, there are kilometres and kilometres of paths where you can walk your dog. He will rapidly develop a taste for the great outdoors, the fresh air and the wide open spaces (in their green or white version) where he will be yipping with pleasure. You can enjoy a real moment of complicity, as you keep on going, sharing the effort as well as the satisfaction of reaching the end!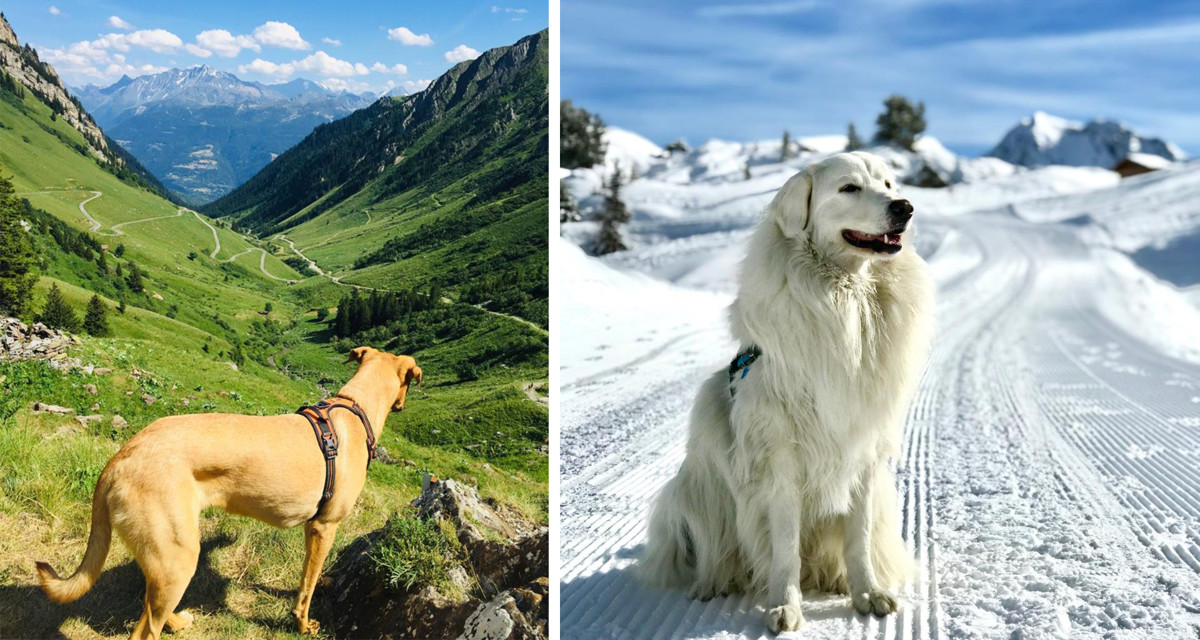 In winter, for an easy walk or a sporty hike, you will find the map of the walking/snowshoe trails in the tourist office closest to your accommodation. Useful to know: Pluto can take the inter-village shuttle buses with you; however, he is not allowed on the ski slopes and cannot take the ski lifts (so there's no point in letting him drool over the piste map!).
Here are a few examples for those who know the resort well: Télébus YES, Funiplagne NO. Similarly, in the Champagny-le-Haut valley, dogs are not allowed on or just alongside the cross-country ski trails.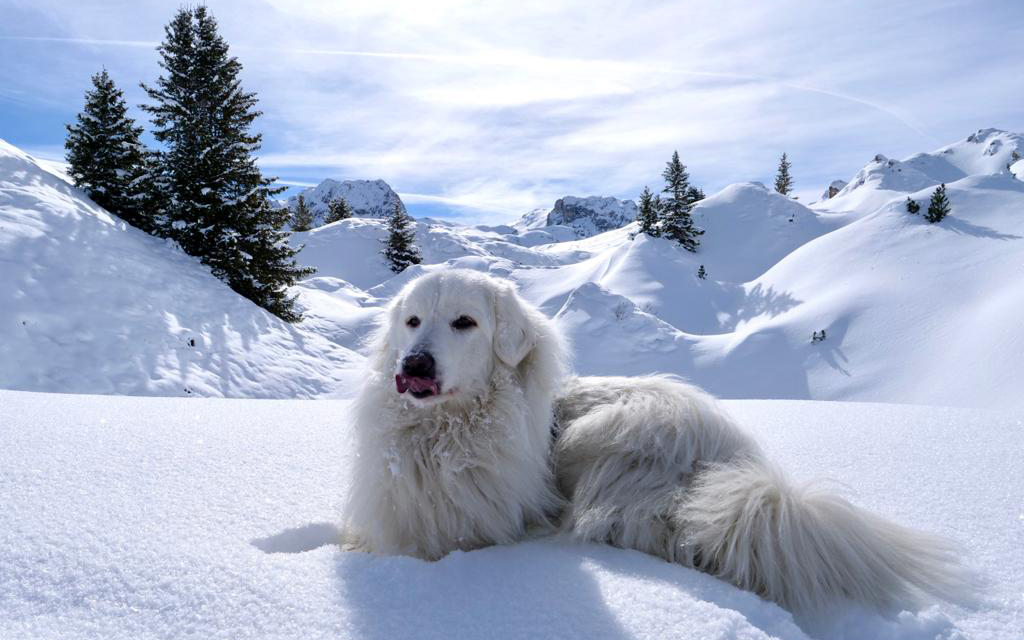 In summer, the maps of the walking trails are still available from our excellent  tourist office staff 😊. So why not take Lassie out on an orienteering trail ?. They are free and out in the great outdoors. After that, you might be little more indulgent when you ask him to "go search"!
Another idea for a walk:  why not go right to the top with Rover! There is a glacier at the top of La Plagne at 3 250 m, accessible by gondola, and guess what?! In summer, dogs are allowed! When you reach the top, take a deep breath of pure fresh air and enjoy the strange pleasure of walking in the snow in swimsuit season. In the lunar landscape, Fido strikes the "it's ama-a-a-zing" pose for the camera!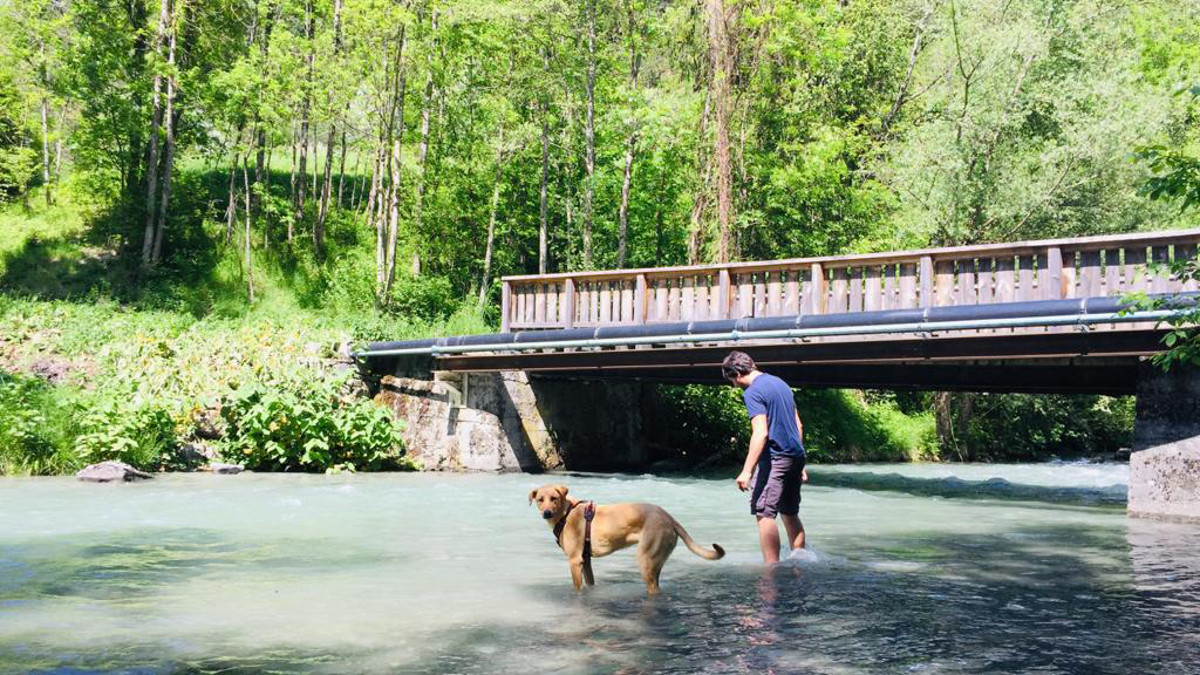 What if you don't have a dog? No problem, you can also enjoy a canine adventure with Cani Rando.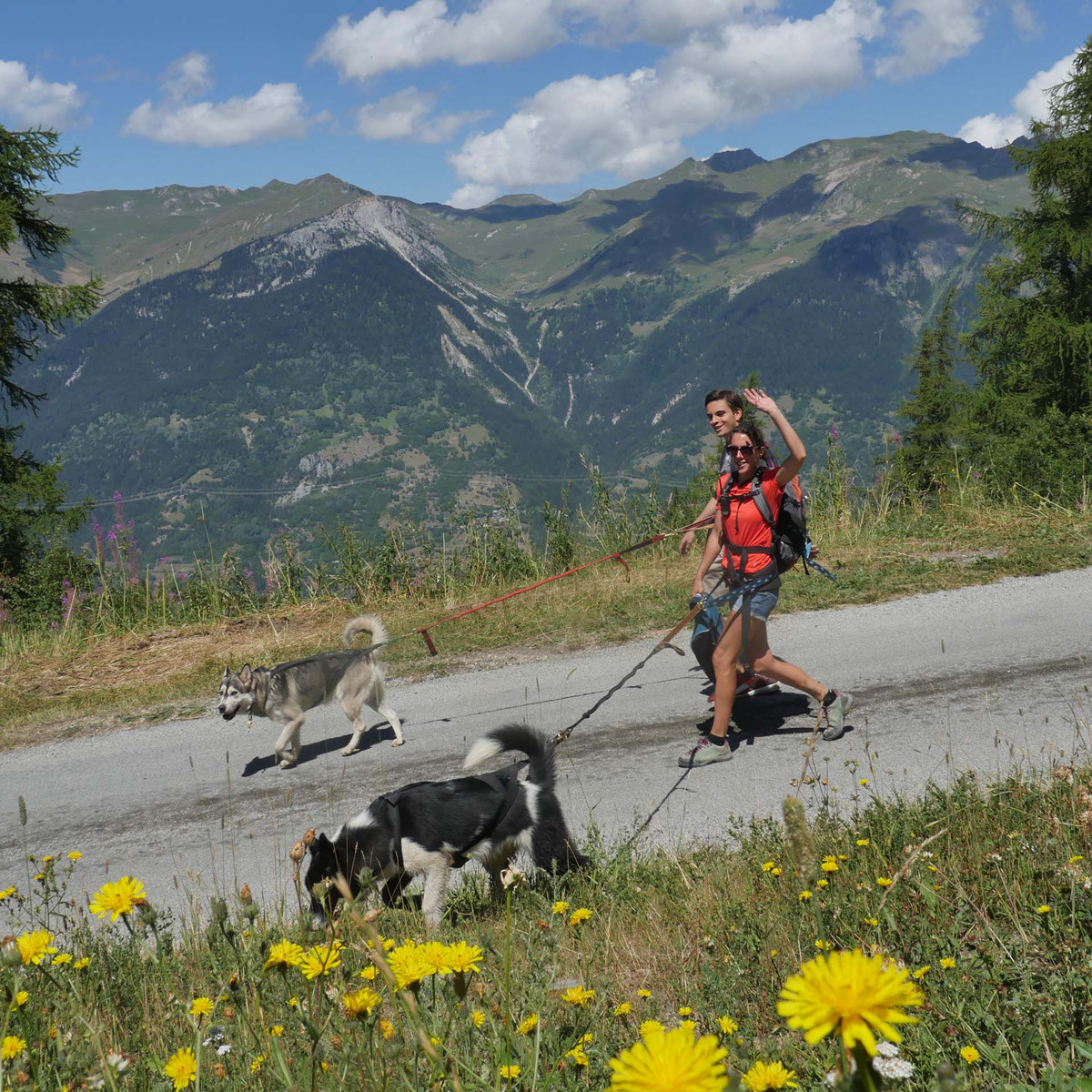 Hiking ideas    a refreshing walk
 

| Nos tips pratico-pratiques

Wherever you are staying in La Plagne, you will always find accommodation that accepts dogs. Whether you prefer an apartment  residence, a hotel or accommodation from one of our renters, you will find the perfect cocoon for you and Snoopy. The simplest way to find it is to call our online travel agency, which will give you the information you need. Call 04 79 09 79 79 or go to the La Plagne Resort website, we will tell you everything you need to know!

Not quite so delicate, but still useful: if you've headed off for a walk and realise that you have forgotten to take the indispensable "poo bag", don't worry: you will find bag dispensers all over the resort and at the starting point of some of the hiking trails.

In the summer season, the altitude does not protect against minor heat stroke. When the temperature rises, Buddy's tongue is hanging out and you are both looking for shade. It's time to look for some water. Rivers and streams come straight down from the snowy peaks and will cool you down instantly! Don't forget to take a water bottle. There are great folding bowls that are easy to carry and will stop your dog getting overheated.

Also, although we hope you won't need this – particularly on holiday – it might be useful: the vet. For emergencies or minor problems, a telephone call might be enough to reassure you. In Aime La Plagne (in the valley), we have a veterinary clinic et a veterinary surgery.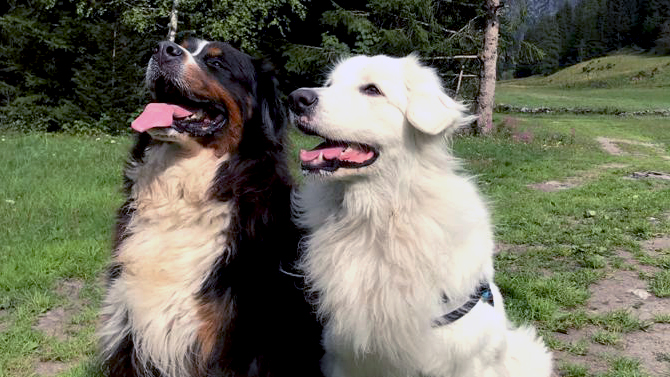 | Special info for the summer season: our advice for living alongside wild animals and livestock
To ensure a great summer holiday, a few precautions are required. Don't forget that the mountain is a living, and often wild, place, especially as certain sectors of La Plagne are in the Vanoise National Park, which is subject to specific regulations.
So that you can enjoy walking and hiking without any stress, our first piece of advice is to go to the tourist office when you arrive. Our holiday specialists on each site know the area like the back of their hand and will be able to let you know the itineraries to prefer or avoid completely with Fido.
For some dogs, of course, the mountain is their work environment, because mountains mean pastures and pastures mean herds! Herd dogs (including Patous and Anatolian Shepherds) are hard-working and have a mission: to protect the cows, sheep and little lambs against attacks by ill-intentioned canines. The best thing when you have a dog is definitely to avoid or go around any pastures.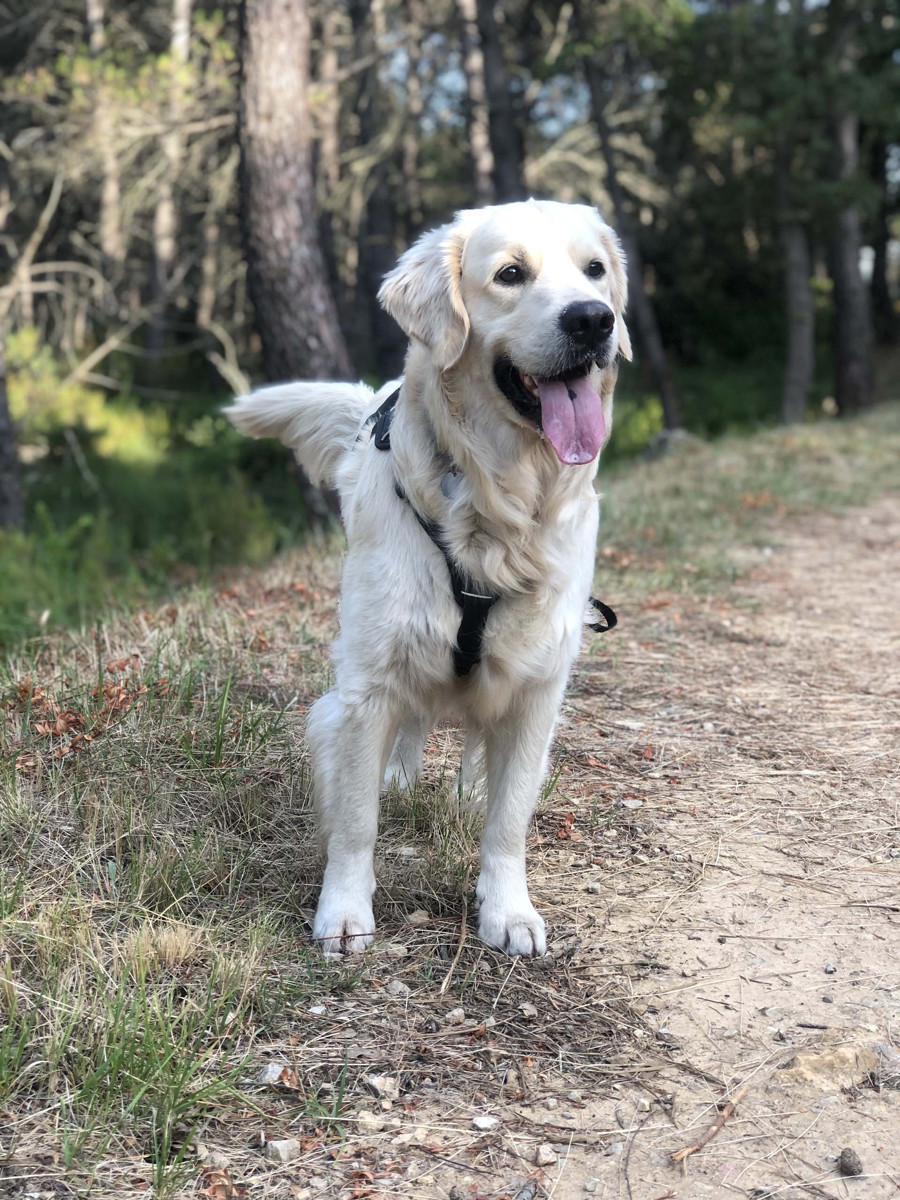 Lastly, a few furry or feathered natives are masters in these high altitude areas. Let's start by the least "friendly": snakes. Although they tend to move away at the sound of a (heavy) footstep, your dog is lighter and does not always warn the cold-blooded creatures. A small bell will ensure that he is heard. Deer and wild boar do not really appreciate other animals coming into their territory either, so don't run around like a rabbit and keep Milo on a lead. Move away quietly and, once again, a bell will usually make them run away. Then, in the range of cuddly toy-type animals, the star of the mountain pastures is of course the marmot. There is no problem in the winter season when they hibernate in their burrows until April. However, in the summer and the interseason periods, they might awaken Oscar's hunter instinct. To put things plainly: this is forbidden, so keep him on a lead and close to you 😉