In La Plagne, it's all about getting down… but because we enjoy a healthy lifestyle, this has more to do with sport than downing a few drinks! And, although we are often concerned with getting up, elevation gain, altitude, etc., this time we are looking at ways of going down the mountain, with a list of the best ways of enjoying a great slope:
1- Mountain cart
Go to the top of Colorado chairlift to discover this all-terrain tricycle. The mountain cart is quite clearly influenced by Mario & Luigi, but this one is adapted for the mountains. If you are a competitive type, you can challenge your friends on the start line and go for it from start to finish. If you prefer taking it easy, you can test the discovery version with photo stops and gentle descents. You are in full control and can moderate your speed as you see fit, to ensure you have a fun time!

In numbers :
1.5 km descent
300 metres elevation drop
18€ / descent (72€ for 5 descents)
Practical info: min. age 10 yrs, minimum height 1m30, open Tuesday to Sunday 10 – 12am & 2 – 5pm.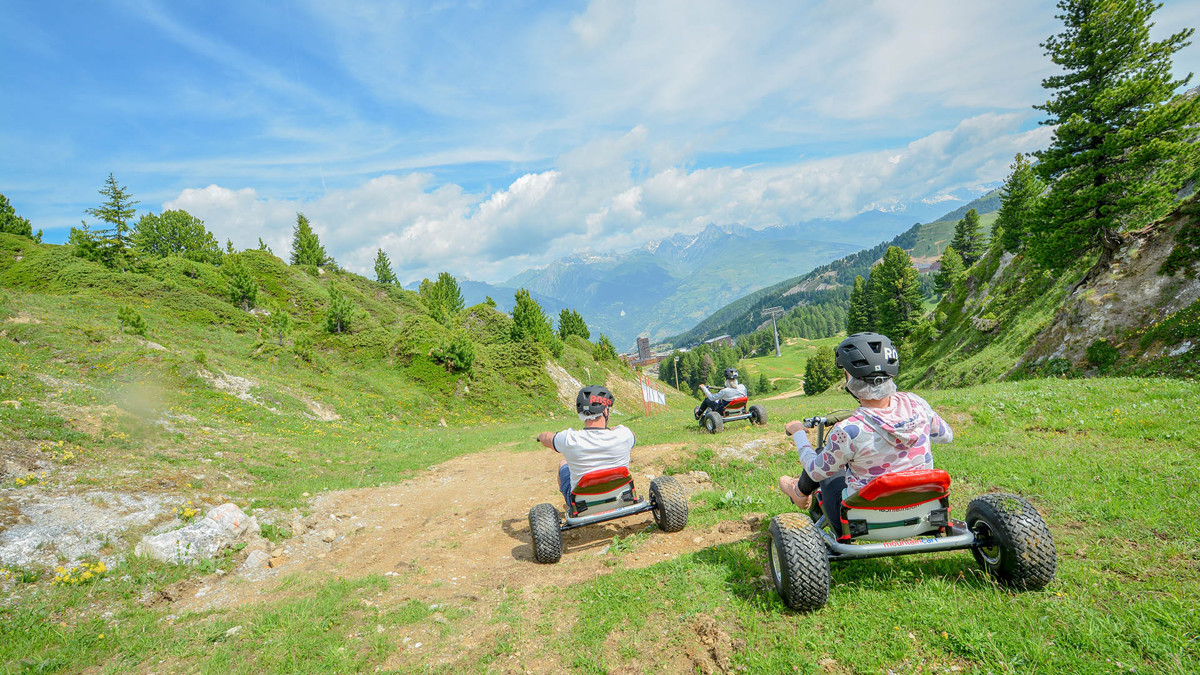 2- The giant waterslide
We've all seen hilarious videos of waterslides. La Plagne Montalbert has had the great idea of installing a giant waterslide for the whole summer in the village centre. It's like a dream come true! A 125-metre slide that people can't get enough of. On your back, on your front, upside-down or back to front, head-first, like a rocket… find your inner child with this outsize slide.
Note to anyone who think that this activity is only for the kids: we would remind you that a pleasure unshared is only half the fun!

Practical info: min. age 8 yrs, 6€ / ½ day for under 12s, 10€ / ½ day for over 12s.


3- The bike park
The real king of downhill activities! A mountain bike will be the bike of choice to tackle the descent and you can use the lifts to get back up. In the La Plagne bike park there are itineraries for everyone from beginners to experts and the bike patrols guarantee the quality of the trails.
In numbers :
12 trails
3 chairlifts
20€ / day, a competitive rate
Practical info: free for kids age 5 and under, 16€ for children aged 5 to 12, 20€ for 13 and over, starting from Plagne Centre or Plagne Bellecôte.