It is one of the specificities of the resort with the red woolly hat logo: a 3D ski area that is truly one of a kind. Here is the proof in three points:
— let's talk altitude: in La Plagne, the ski runs climb gradually from the pine forests to the glacier (1 250 m – 3 250 m). In other words, there is an immense variety of atmospheres and panoramas. It means that you can adapt your ski programme to the weather conditions. On snowy days, visibility is much better in the trees. On bluebird days, the views from La Plagne's peaks are breathtaking.
— get your compass out! Here, you can see in all directions and even if it doesn't sound like much when you say it like that, it is a real advantage. On chilly mornings, you can start off on the south-facing slopes in Champagny-en-Vanoise where the snow will be softer, slowly warmed by the sun; in the springtime, the north-facing slopes (like Rochette black run from the top of the Grande Rochette) are where you will find almost untouched powder snow in the shade. You can also follow the path of the sun all day and that is priceless.
— finally, let's talk about preferences and levels: in La Plagne, there is something for everyone, from the skier who is discovering the mountains for the first time to the experienced snowboarder in search of steep slopes of powder snow. The different ski school  are a great option for (re)discovering the area of La Plagne.
To take the full measure of all this, the best thing is to take a look at the piste map or our webcams.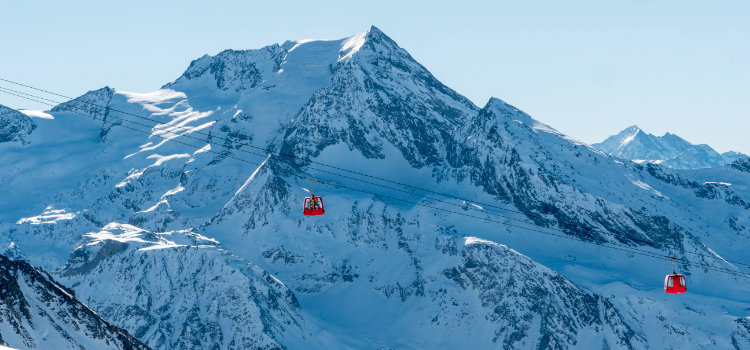 ● The facts and figures of the La Plagne ski area
A few numbers to help you fully measure the area:
— altitude: from 1 250 m to 3 250 m
— 11 sites: 7 at altitude (1 800m +) and 3 villages
— 551 cm depth of snow measured over winter 2021/22
— 135 ski runs, including 18 black, 35 red, 74 blue and 8 green, spread over 225 km
— 11 fun zones
— 73 ski lifts, including 31 chairlifts, 9 gondolas and 1 cable car
— a red woolly hat and black glasses that you can spot anywhere!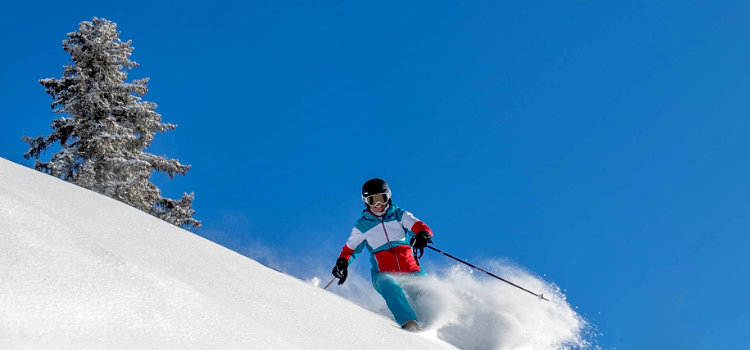 ● Paradiski®, what's that?
It is a name that you have already heard, but what is it exactly? Paradiski® is one of the world's largest ski areas. Thanks to the Vanoise Express cable car, La Plagne's ski area is linked to the slopes of Les Arcs and Peisey-Vallandry. With two glaciers and 425 km of ski runs, 70 % of the Paradiski® area is more than 2 000 m above sea level. Very tempting, wouldn't you say?
Paradiski® will be celebrating its 20th anniversary in December 2023.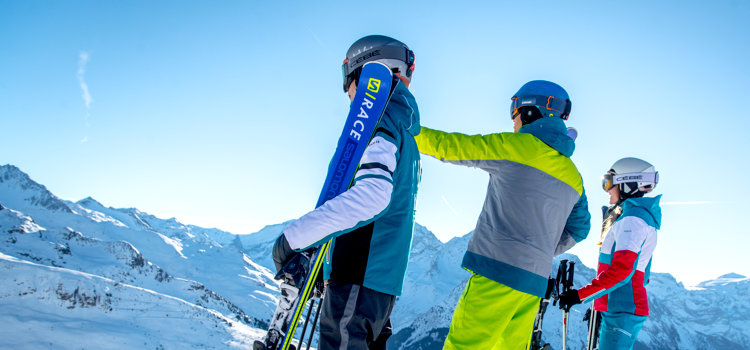 ● The ski area's (really) great ideas
The trickiest thing is knowing where to start 🤔 Maybe with THE new feature of the winter, quite simply!
|

The new snowpark

The RIDERS NATION snow park, at the top of the Montchavin – Les Coches sector. New name, new address! The former Belle Plagne snow park is moving to the Dos Rond sector. A choice spot for proposing green and blue lines where you can progress to the expert modules. Accessibility remains the key word and, to ensure this, "tutorial" signs accompany and advise (first-time) riders. Those who prefer to watch the show can see it up close from the chill zones!
|

Yuge

The essential app, un vrai couteau suisse numérique pour s'amuser et se repérer sur le domaine skiable grâce un panel de fonctionnalités pratiques et ludiques. Un exemple ? Yuge accompagne votre parcours de la journée : météo, horaires des remontées mécaniques et spots photos ! Yuge recouvre une communauté de 700 000 utilisateurs quand même ! Pendant qu'on parle technologie et internet, notons aussi que le domaine skiable compte 46 zones wifi gratuites.
|

11 fun zones and experiences

They can be found on the piste map, of course, and in different sectors of the ski area. Lets start with the freestyle zones, which consist of two boarder cross courses (Champagny-en-Vanoise and Montchavin – Les Coches), a half pipe (Plagne Bellecôte) and the new snow park of course (see above), which are for  aspiring freestylers as well as experts.

The fun slopes are tailor-made for big and small tribes, with or without teenagers: the Funslope, Buffalo Park & Buffalo Kids, the timed slalom and the Forêt des Lutins. You are going to have to get your holiday programme sorted!

|

The Natur' slopes

Discreet and preserved, these natural, ungroomed slopes are really worth discovering, a paradise for freeriders who prefer to stay in the secure ski area. While we are on the subject, we should mention that La Plagne is renowned for its vast off-piste area. To be explored when you are properly equipped with the essential trio: DVA-shovel-probe, which you can rent in most of the sports shops, familiar with how to use these tools (!) and accompanied by mountain professionals.
|

CoolSki

This is kind of a favourite of ours. The CoolSki  mission is to put beginners at ease.

The 5 CoolSki areas, marked on the piste map since 2014 and easy to find, already allowed 26,853 beginner skiers to get (back) on their skis, stress-free, over the winter season 2021-22. Encouraging pink signs indicate these gently sloping protected areas. Beginners can also wear a pink bib to make them more identifiable. Easy routes are recommended and we should note that it is not only the slopes that are accessible, the CoolSki price is too.
|

You can spend the night on the slopes

With our unique « Over the Moon » experience, a totally original hotel room: a luxury suite fitted out inside a snow groomer perched 2 000 m above sea level on the slopes! To make the night even more unforgettable, the unusual accommodation also has a spa bath. Romantics take note!
|

There is more to life than downhill skiing!

La Plagne has no less than 14 cross-country trails, 7 ski touring routes and 6 hiking circuits, not forgetting the numerous activities that range from really zen to really thrilling. A great choice to ensure you can enjoy all the resort's other facets…

All you need to know about skiing in La Plagne, and our prices.