To talk to you about mountain biking, we decided to ask someone who knows all about it. Séverin is the one who planned all of La Plagne's itineraries, who knows the area like the back of his hand from riding it so often, he's the guy who always has a bike on the back of his car. After negotiating long and hard, he has finally accepted to share some of his secrets. Listen carefully:
When we talk about mountain biking in La Plagne, what are we actually talking about?
La Plagne and mountain biking is a long love story. This was where the first MTBs were presented in France at the start of the 80s…. I wasn't even born yet! At that time, mountain biking was all about downhill. It's crazy, actually, because when you see the original bikes, you have to wonder how the guys managed. No suspension, block-type brakes and, particularly, flashy clothes that would now get you a fine from the "style police". Fortunately, since then mountain biking has evolved considerably and, in 2015, the year when La Plagne's new policy to develop mountain biking was decided, we chose to look at 3 of the most popular activities: downhill, Enduro and e-biking. However, the goal for all three was to offer something for all ages and abilities: from 5 year olds learning to ride a bike to experienced riders looking for a new spot.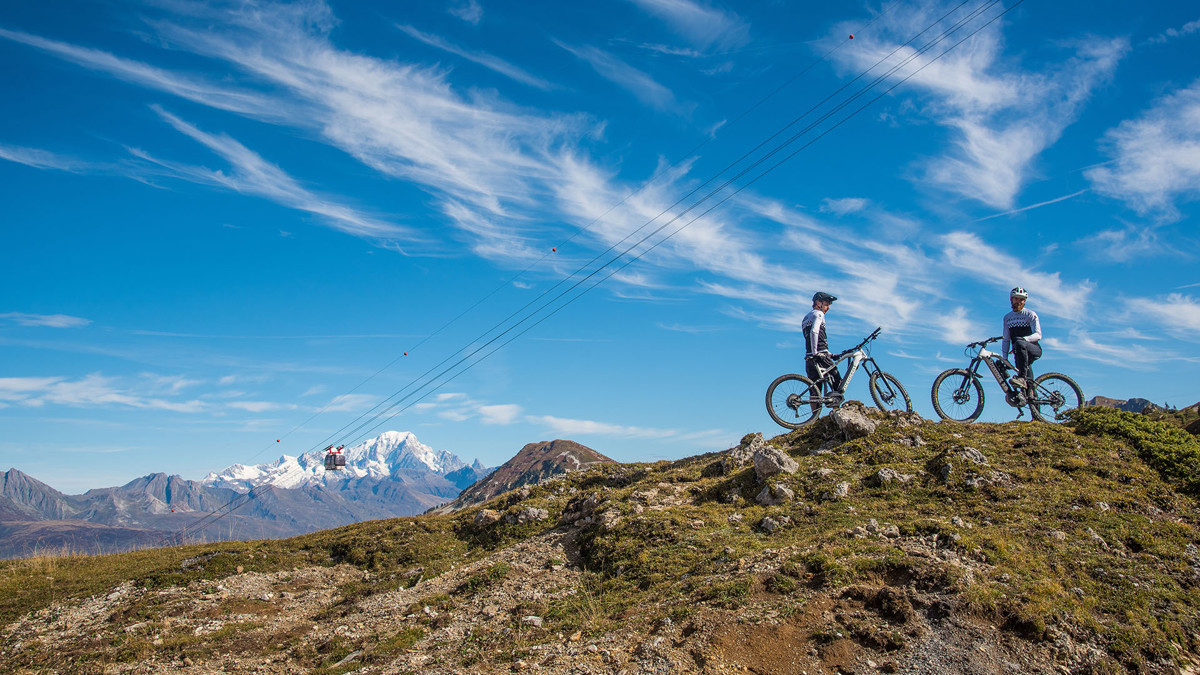 The resort is working really hard to offer something for all levels. Does this mean that everyone, from Pauline Ferrand-Prévot to Coco the Clown, will be able to have fun?
Wow, is Pauline in La Plagne? Hang on a sec, I have to go and watch her! Well yes, to be serious, that is exactly what we have aimed for. We started by creating a fun bike park that is easy to get started on. The goal was not to compete with the resorts that have already developed this niche by creating a more elitist bike park, but more to offer a new activity for our mainly family-based clientele. And the terrain here lends itself to that pretty well: all types of slopes and earthy soil that is not too brittle. We therefore focused on green and blue runs to highlight learning and progression. The challenge was taken up by our clients, who made progress, so we had to develop more difficult and technical runs (reds and blacks), still aiming at accessibility and never forgetting the quality and safety aspects. I think that our bike park is now pretty much complete, and its qualitative aspect means that we attract a lot of riders who had never heard of La Plagne before as a major spot for mountain biking.
We followed the same logic for E-biking. We started with discovery itineraries that were not too technical so riders could travel around the mountain more easily. Since the activity is constantly evolving, we have been developing more sporty trails over the past couple of years so that our visitors can experience something new. They should be able to make the most of this method of getting around to discover things they would not have experienced otherwise, which is why we created the E-spots.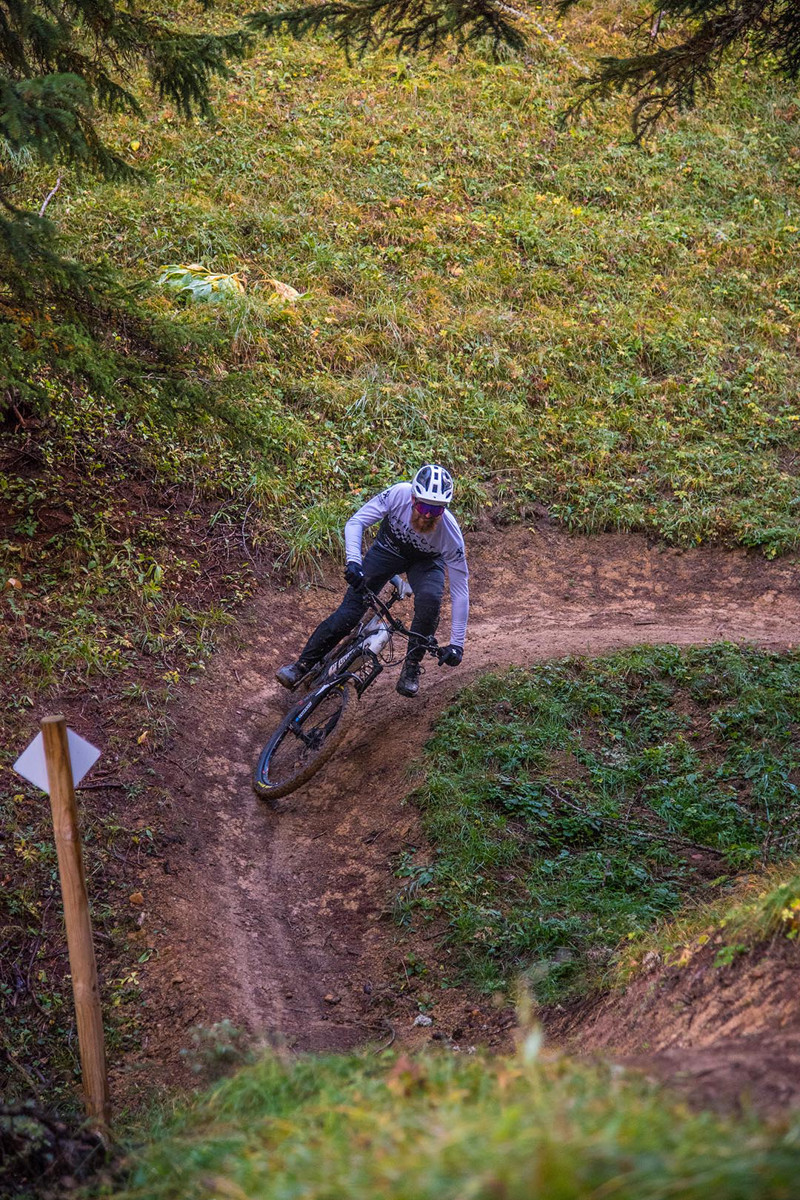 In Enduro, we are catering to riders who are looking for a blast of adrenalin. La Plagne's natural terrain offers endless potential for this activity and I think it is a strong area for development for the coming years. The idea is to find the longest trails in terms of elevation difference, using the ski lifts and the bus that runs from the valley to the resort.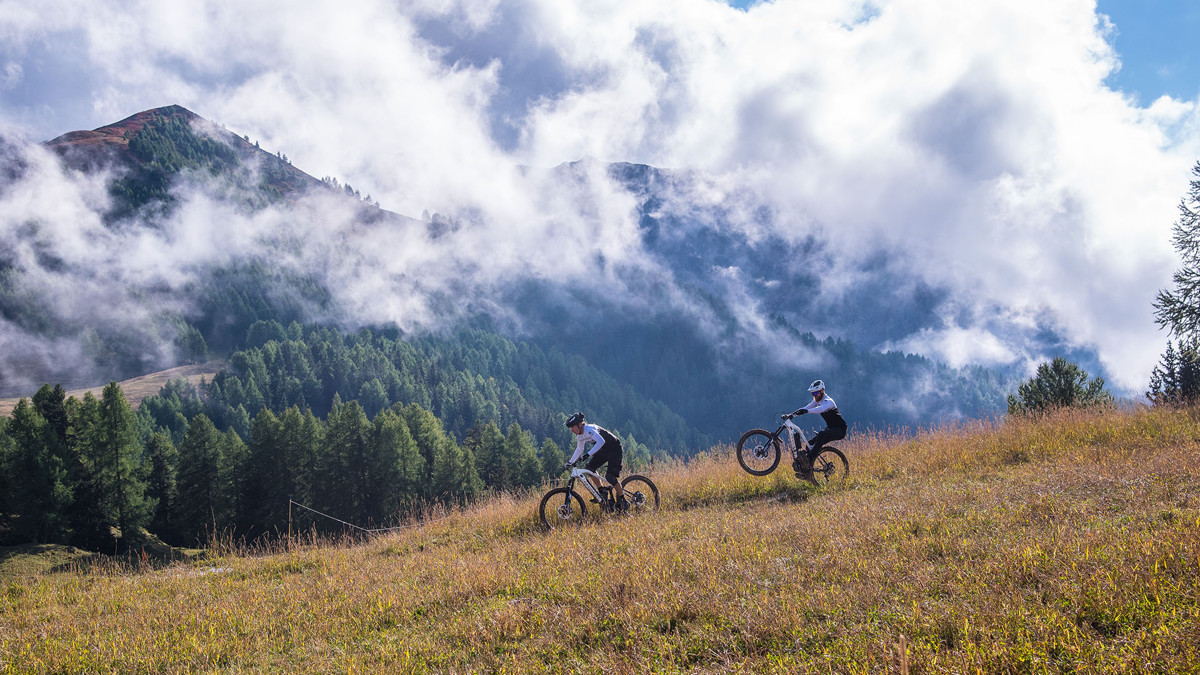 Let's come back to e-bikes, which are very popular. What are their main assets in the mountains?
For us, here in La Plagne, it's more of a real opportunity than a trend! First of all, the assistance makes it much easier to climb and go further. It is therefore a method of getting around that our visitors can use to get between the different sites of the resort, travelling across the area like they do on skis in winter, without suffering too much. The electric assistance also "smooths out" different levels of ability so that a less sporty person can ride with a sportier person more easily! You can see the advantage that offers for family outings. Even more so, now that our bike rental outlets have 24" bikes that are great for children that are about 1m30 tall.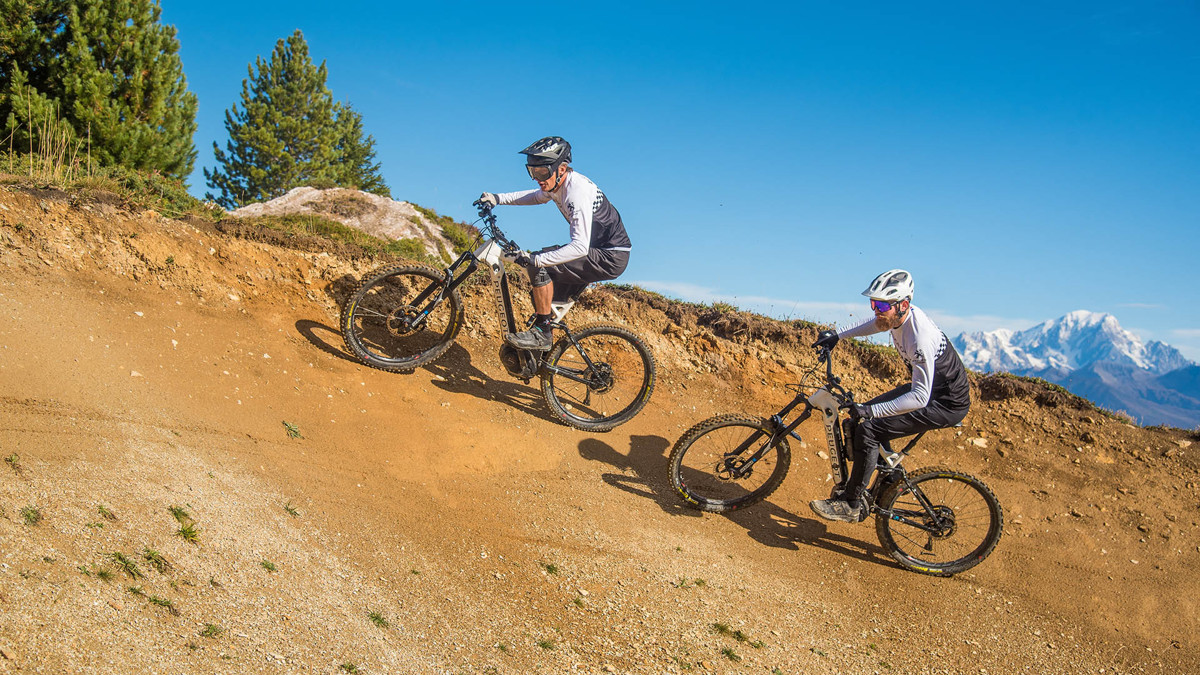 Then, of course, this type of bike is great fun and, after working with them, we have noticed that this playful aspect can be exploited on both the way up and the way down. That is how we came up with the idea of the E-spots: creating trails for all levels, like small bike parks with uphill and downhill sections, modules, jumps, raised bends... There are now E-spots in all the resort's sites, each with their own specificities, linked by a specific network of trails. People love them: adults, children, everyone. I have taken professional riders there and they had a great time. It's the only place in France, maybe in the world, where you find this type of equipment! I have to admit that I'm very proud of this concept.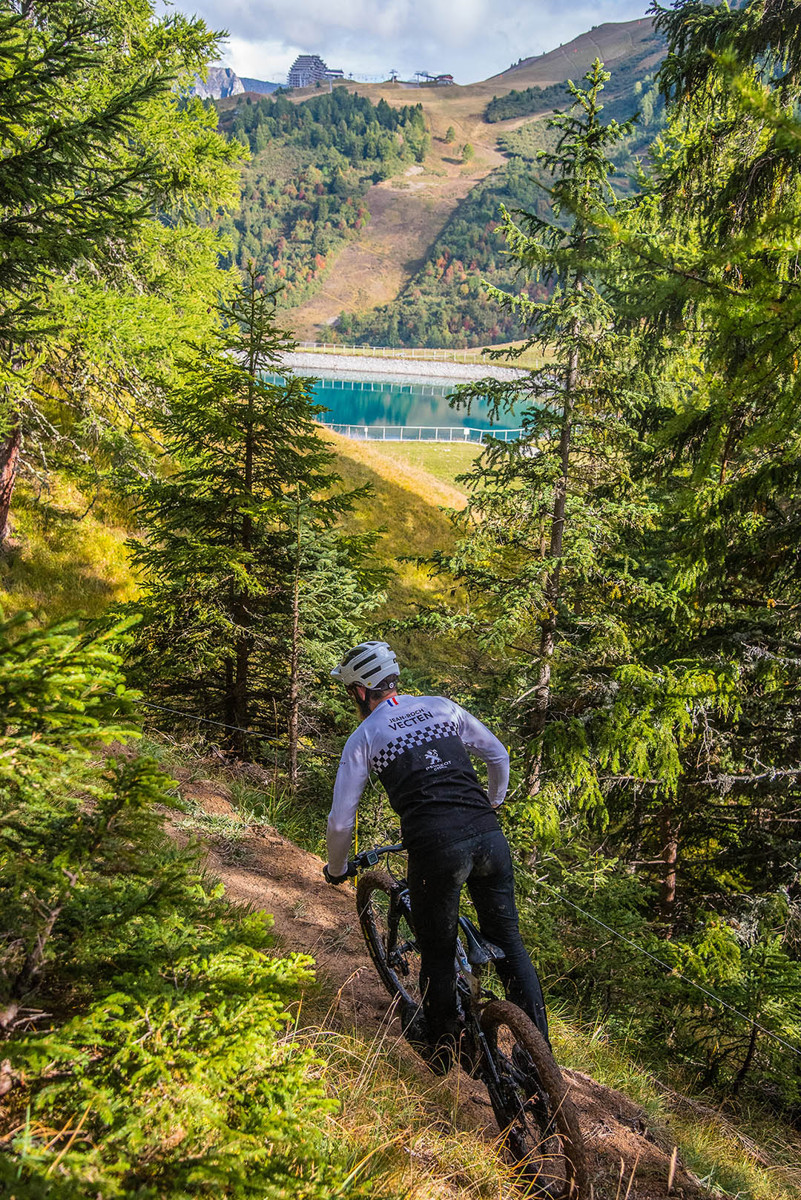 A bit like for skiing, the equipment plays a role. Apart from the safety aspect, do you have some advice for us?
You really want me to talk about equipment? It might take some time… Seriously, it's essential because it guarantees your safety and comfort, and therefore your enjoyment, when you're out riding.
First of all, you need the right bike, adapted to what you want to do! For the bike park and enduro trails, you should choose a full-suspension bike with a good amount of travel to absorb shocks and jumps. For easy discovery rides, a slightly lighter bike with less travel is better. Since we are in the mountains with a variety of terrain and soil that can be brittle, a bike with front and back suspension seems essential for comfort! All these bikes are now fitted with disc brakes, to guarantee safety.
For e-bikes, we find the same types of bikes as above, but with a motor and a battery! I have to say at this point that I really like the new Peugeot EM01 FS. It's a pure pleasure to ride, a real weapon with a potential 140 km of autonomy! That's amazing!
Use proper protective gear: a helmet and gloves and, for the bike park, knee protections and a body armour bike vest or back protector. All the guys working in the bike park use Racer protections. They are highly technical and comfortable to wear, so we recommend them! The brand has also developed an extremely well-adapted children's range.
A good pair of glasses, for instance, the Cebe Northshore model! Essential for protection from the sun, but also splashes of mud or sand. Being able to see where to direct your wheels is the main thing.
Also, everything you need in the mountains: a warm jacket, something to eat and drink, a telephone and a first-aid/repair emergency kit.
Don't worry if you haven't got all these items, though, our rental outlets have all the equipment and will be able to advise you on what you are looking for!

We are sure that you have a favourite trail… do you mind sharing?
If I had to choose one of the marked trails, it has to be Dré'Val. The longer it is, the better it is, and that particular trail is over 1000 m of vertical drop to clock up! The terrain is varied and the bike patrols always shape the line with a laser. Step on the gas and let it go all the way down! YAHOOOOOOOOOO !

You can even follow it up with the Tour du Saint Jacques itinerary if you're really into pedalling. That's another few hundred metres of elevation difference!
It's easy to get back up to La Plagne with the bus and the trailer is perfect for not damaging your bike!